Explore our effective micro-nutrients and premium ingredients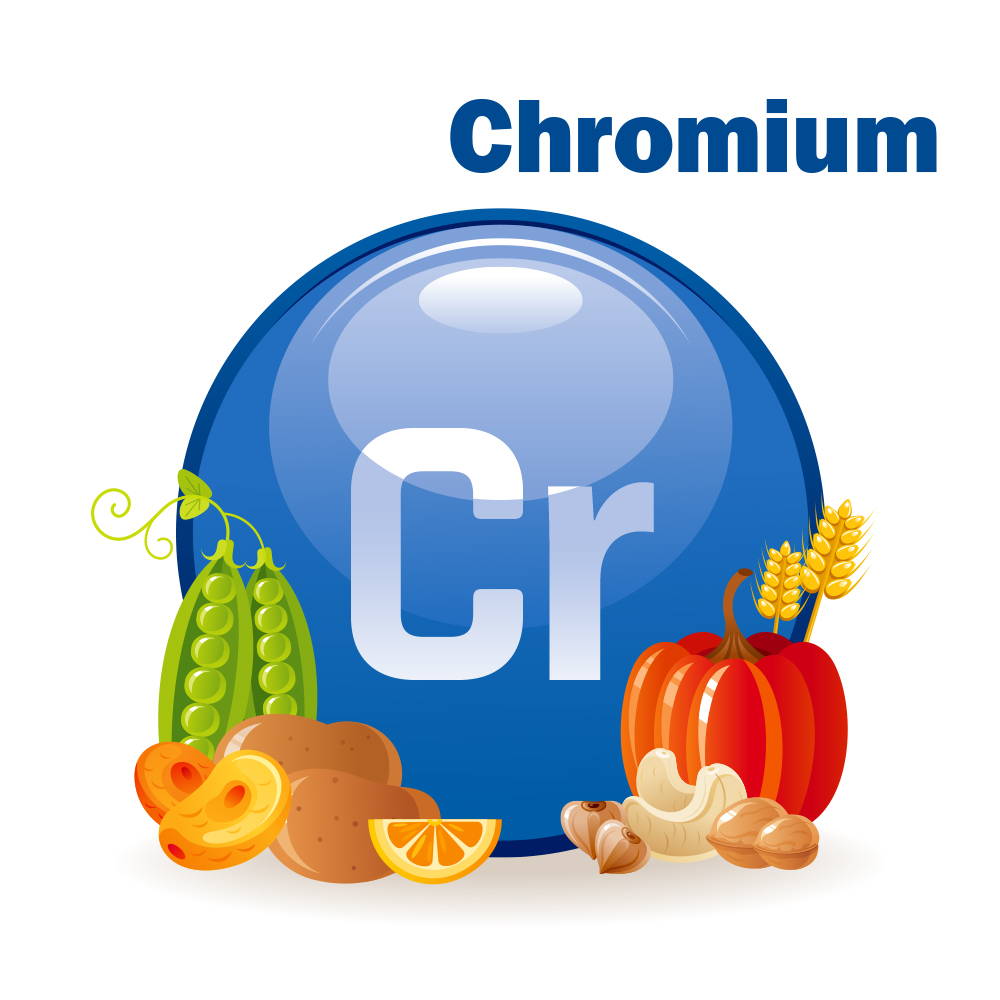 What is chromium and what does it do?
Chromium is a mineral found in many foods. Researchers do not fully understand what chromium does in your body, but it might help you use carbohydrates, fats, and proteins.
There are two main forms of chromium. This fact sheet is about chromium (III), the type of chromium found in foods and some dietary supplements. A different type of chromium, called chromium (VI) (sometimes called hexavalent chromium) is a poisonous byproduct of industrial manufacturing.
Chromium, as trivalent (+3) chromium, is a trace element that is naturally present in many foods and available as a dietary supplement. Chromium also exists as hexavalent (+6) chromium, a toxic by-product of stainless steel and other manufacturing processes [1,2]. This fact sheet focuses entirely on trivalent chromium.
Chromium might play a role in carbohydrate, lipid, and protein metabolism by potentiating insulin action [1-5]. Although the precise mechanism for this activity has not been identified, scientists have proposed that chromium binds to an oligopeptide to form chromodulin, a low-molecular-weight, chromium-binding substance that binds to and activates the insulin receptor to promote insulin action [4,6-8]. Chromium might also have antioxidant effects [1].
In 2001, the Food and Nutrition Board (FNB) of the National Academies of Sciences, Engineering, and Medicine considered chromium to be an essential nutrient based on its effects on insulin action [2]. However, recent research has suggested that although chromium might have benefits at pharmacologic amounts (e.g., in the hundreds of mcg),


What are some effects of chromium supplements on health?
Scientists are studying chromium supplements to understand whether they affect health. Here are some examples of what this research has shown:
High blood sugar
levels and diabetes
Chromium supplements are often promoted to improve blood sugar control in people with type 2 diabetes. However, studies examining the effects of chromium on high blood sugar levels or diabetes have had mixed results. The American Diabetes Association does not recommend chromium supplements for people with diabetes because these supplements don't have a clear benefit. More research is needed to understand whether chromium supplements might improve blood sugar control in some people.
Metabolic syndrome—the combination of excess belly fat, high levels of fat in the blood, high blood sugar, high blood pressure, and low levels of HDL ("good") cholesterol—raises the risk of heart disease, diabetes, and stroke. A few clinical trials have studied the effect of chromium supplements on metabolic syndrome. These studies did not show a benefit of chromium supplementation in people with metabolic syndrome.
Polycystic ovary
syndrome (PCOS)
PCOS is a hormonal disorder that affects females of reproductive age. Symptoms include irregular periods, infertility, excess hair on the face or body, acne, and weight gain. PCOS raises the risk of diabetes and heart disease. Studies examining the effects of chromium supplements on PCOS have had mixed results. Any potential benefits appear to be very small. More research is needed to understand whether taking chromium might help lower the risk of PCOS or improve symptoms.
High levels of LDL ("bad") cholesterol can raise your risk of heart attack and stroke. Studies have examined whether chromium supplements improve cholesterol levels. The results of these studies have been mixed. More research is needed to understand whether chromium supplements have any effect on cholesterol levels.
Some chromium supplements are marketed for weight loss and to reduce body fat and increase muscle mass. However, clinical trials have found only a very small benefit. This benefit is unlikely to make any difference in health or appearance.
Chromium from food and dietary supplements does not appear to cause any harm, but research is limited. People with kidney disease or liver disease should be cautious about taking high amounts of chromium.


Where can I find out more about chromium?
• For more information on chromium and food sources of chromium:
• For more advice on choosing dietary supplements:
• For information about building a healthy dietary pattern:
1. Anderson RA, Cefalu WT. Chromium. In: Coates PM, Betz JM, Blackman MR, et al., eds. Encyclopedia of Dietary Supplements 2nd ed. New York, NY Informa Healthcare; 2010.
2. Institute of Medicine. Food and Nutrition Board. Dietary Reference Intakes for Vitamin A, Vitamin K, Arsenic, Boron, Chromium, Copper, Iodine, Iron, Manganese, Molybdenum, Nickel, Silicon, Vanadium, and Zinc Washington, DC: National Academy Press; 2001.
3. Vincent JB, Lukaski HC. Chromium. Adv Nutr 2018;9:505-6. [PubMed abstract]
4. Eckhert CD. Trace Elements. In: A. Catharine Ross BC, Robert J. Cousins, Katherine L. Tucker, Thomas R. Ziegler, ed. Modern Nutrition in Health and Disease. 11th ed. Baltimore, MD: Lippincott Williams & Wilkins; 2014:248-51.
5. European Food Safety Authority NDA Panel. Scientific Opinion on Dietary Reference Values for chromium. EFSA Journal 2014;12(10):3845.
6. Vincent JB. Chromium In: Marriott BP, Birt DF, Stallings VA, Yates AY, eds. Present Knowledge in Nutritoin 11th ed. Cambridge, MA: Elsevier; 2020:457-65.
7. Swaroop A, Bagchi M, Preuss HG, Zafra-Stone S, Ahmad T, Bagchi D. Benefits of chromium (III) complexes in animal and human health. In: Vincent JB, ed. The Nutritional Biochemistry of Chromium (III). Cambridge, MA: Elsevier; 2019:251-78.
8. Landman GW, Bilo HJ, Houweling ST, Kleefstra N. Chromium does not belong in the diabetes treatment arsenal: Current evidence and future perspectives. World J Diabetes 2014;5:160-4. [PubMed abstract]
9. Health information data from U.S. National Institutes of Health
Nine medical doctors used their research findings to develop Dr's Grow UP in the biotech lab. The result is a product containing 22 ingredients mixed in the perfect proportions to maximize bone health and height development.

Science-Backed Formulations
Carrying out extensive research and keeping up-to-date with the latest scientific findings is our key to develop superior formulations.
Best Growth Support for Kids & Teenagers
Our products contain essential ingredients for a healthy bone and height development of kids from 10 years and teenagers.
Fighting Aging Effects
We are dedicated to create formulations that delay and restrict the extent of adult's bone density decrease.
Unmatched Product Quality
Only 100% natural ingredients that contain no soy, no gluten, no GMOs, no maltodextrin, and no artificial flavors, colors, or preservatives.
Product Safety
All of our products are manufactured in the US in an FDA and NSF cGMP registered facility.