Explore our effective micro-nutrients and premium ingredients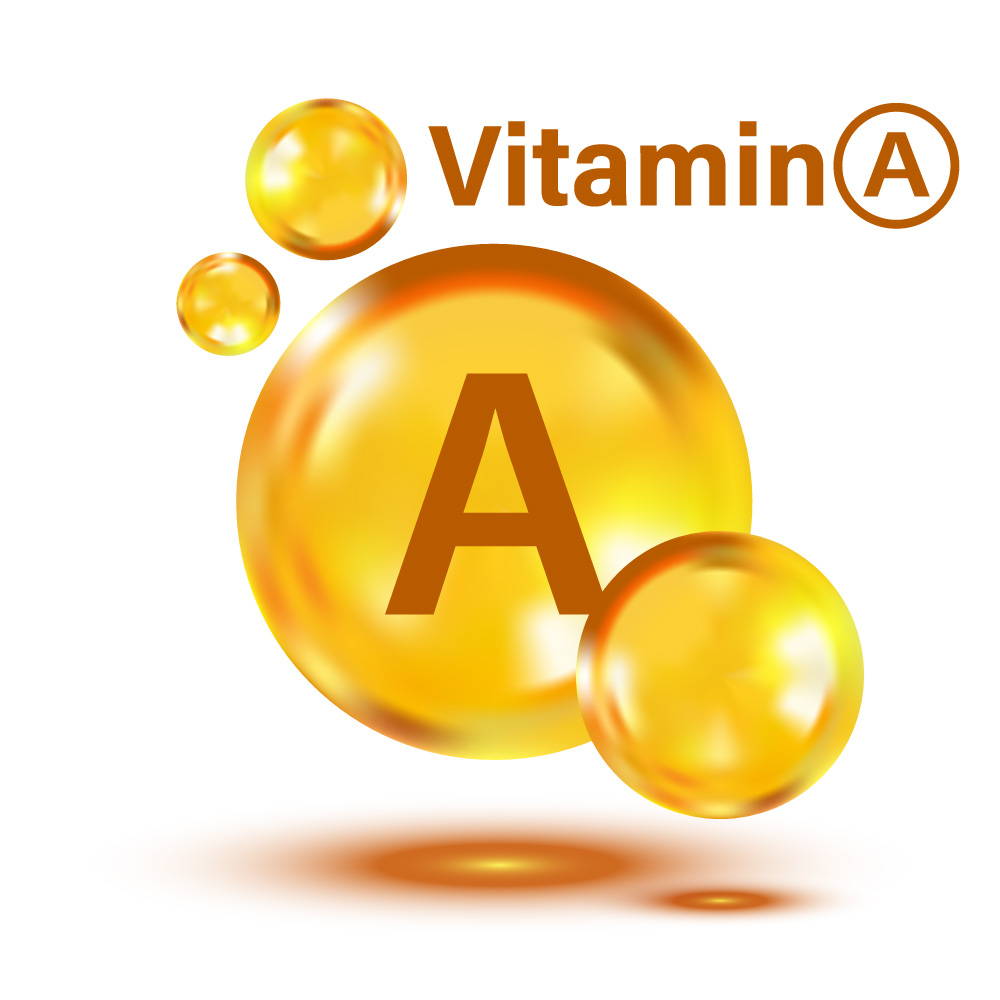 What is vitamin A and what does it do?
Vitamin A is a fat-soluble vitamin that isnaturally present in many foods. Vitamin A is important for normal vision,the immune system, and reproduction. Vitamin A also helps the heart, lungs, kidneys, and other organs work properly.
There are two different types of vitamin A. The first type, preformed vitamin A, is found in meat, poultry, fish, and dairy products.
The second type, provitamin A, is found in fruits, vegetables, and other plant-based products. The most common type of provitamin A in foods and dietary supplements is beta-carotene.
Vitamin A is the name of a group of fat-solubleretinoids, including retinol, retinal, and retinyl esters [1-3]. Vitamin A is involved in immune function, vision, reproduction, and cellularcommunication [1,4,5]. Vitamin A is critical for vision as an essential component of rhodopsin, aprotein that absorbs light in the retinal receptors, and because it supports the normal differentiation and functioning of the conjunctival membranes and cornea [2-4]. Vitamin A also supports cell growth and differentiation, playing a criticalrole in the normal formation and maintenance of the heart, lungs, kidneys, and other organs [2].
Two forms of vitamin A are available in the humandiet: preformed vitamin A (retinol and its esterified form, retinyl ester) and provitamin A carotenoids [1-5]. Preformed vitamin A is found in foods from animal sources, including dairy products, fish, and meat (especially liver). By far the most important provitamin A carotenoid is beta-carotene; other provitamin A carotenoids arealpha-carotene and beta-cryptoxanthin. The body converts these plant pigments into vitamin A. Both provitamin A and preformed vitamin A must be metabolizedintracellularly to retinal and retinoic acid, the active forms of vitamin A, to support the vitamin's important biological functions [2,3]. Other carotenoids found in food, such as lycopene, lutein, and zeaxanthin, arenot converted into vitamin A.
The various forms of vitamin A are solubilized intomicelles in the intestinal lumen and absorbed by duodenal mucosal cells [5].
Both retinyl esters and provitamin A carotenoids are converted to retinol, which is oxidized to retinal and then to retinoic acid [2].
Most of the body's vitamin A is stored in the liver in the form of retinylesters.


What happens if I don't get enough vitamin A?
Vitamin A deficiency is rare in the United States, although it is common in many developing countries.
The most common symptom of vitamin A deficiency in young children and pregnant women is an eye condition called xerophthalmia.
Xerophthalmia is the inability to see in low light, and it can lead to blindness if it isn't treated.


What are some effects of

vitamin A

on health?



Scientists are studying vitamin A to understand how it affects health. Here are some examples of what this research has shown.
People who eat a lot of foods containing beta-carotene might have a lower risk of certain kinds of cancer, such as lung cancer or prostate cancer. But studies to date have not shown that vitamin A or beta-carotene supplements can help prevent cancer or lower the chances of dying from this disease. In fact, studies show that smokers who take high doses of beta-carotene supplements have an increased risk of lung cancer.
Age-Related Macular Degeneration
Age-related macular degeneration (AMD), or the loss of central vision as people age, is one of the most common causes of vision loss in older people. Among people with AMD who are at high risk of developing advanced AMD, a supplement containing antioxidants, zinc, and copper with or without beta-carotene has shown promise for slowing down the rate of vision loss.
When children with vitamin A deficiency (which is rare in North America) get measles, the disease tends to be more severe. In these children, taking supplements with high doses of vitamin A can shorten the fever and diarrhea caused by measles. These supplements can also lower the risk of death in children with measles who live in developing countries where vitamin A deficiency is common.


Can vitamin A be harmful?
High intakes of some forms of vitamin A can be harmful.

Getting too much preformed vitamin A (usually from supplements or certain medicines) can cause dizziness, nausea, headaches, coma, and even death. High intakes of preformed vitamin A in pregnant women can also cause birth defects in their babies. Women who might be pregnant should not take high doses of vitamin A supplements.
Consuming high amounts of beta-carotene or other forms of provitamin A can turn the skin yellow-orange, but this condition is harmless. High in takes of beta-carotene do not cause birth defects or the other more serious effects caused by getting too much preformed vitamin A.
The daily upper limits for preformed vitamin A include intakes from all sources—food, beverages, and supplements—and are listed below. These levels do not apply to people who are taking vitamin A for medical reasons under the care of a doctor. Upper limits for beta-carotene and other forms of provitamin A have not been established.
| | |
| --- | --- |
| Ages | UpperLimit |
| Birth to 12 months | 600 mcg |
| Children 1–3 years | 600 mcg |
| Children 4–8 years | 900 mcg |
| Children 9–13 years | 1,700 mcg |
| Teens 14–18 years | 2,800 mcg |
| Adults 19 years and older | 3,000 mcg |


Where can I find out more about vitamin A?
• For more information on vitamin A:
• For more information on food sources of vitamin A:
• For more advice on choosing dietary supplements:
• For information about building a healthy dietary pattern:
1. Johnson EJ, Russell RM.Beta-Carotene. In: Coates PM, Betz JM, Blackman MR, et al., eds. Encyclopediaof Dietary Supplements. 2nd ed. London and New York: Informa Healthcare; 2010:115-20.
2. Ross CA. Vitamin A. In: CoatesPM, Betz JM, Blackman MR, et al., eds. Encyclopedia of Dietary Supplements. 2nded. London and New York: Informa Healthcare; 2010:778-91.
3. Ross A. Vitamin A and Carotenoids. In: Shils M, Shike M, Ross A, Caballero B, Cousins R, eds. Modern Nutrition in Health and Disease. 10th ed. Baltimore, MD: Lippincott Williams& Wilkins; 2006:351-75.
4. Solomons NW. Vitamin A. In:Bowman B, Russell R, eds. Present Knowledge in Nutrition. 9th ed. Washington,DC: International Life Sciences Institute; 2006:157-83.
5. Institute of Medicine. Food and Nutrition Board. DietaryReference Intakes for Vitamin A, Vitamin K, Arsenic, Boron, Chromium, Copper,Iodine, Iron, Manganese, Molybdenum, Nickel, Silicon, Vanadium, and Zinc. Washington, DC: National Academy Press; 2001.
6. Health information data from U.S.National Institutes of Health
Nine medical doctors used their research findings to develop Dr's Grow UP in the biotech lab. The result is a product containing 22 ingredients mixed in the perfect proportions to maximize bone health and height development.

Science-Backed Formulations
Carrying out extensive research and keeping up-to-date with the latest scientific findings is our key to develop superior formulations.
Best Growth Support for Kids & Teenagers
Our products contain essential ingredients for a healthy bone and height development of kids from 10 years and teenagers.
Fighting Aging Effects
We are dedicated to create formulations that delay and restrict the extent of adult's bone density decrease.
Unmatched Product Quality
Only 100% natural ingredients that contain no soy, no gluten, no GMOs, no maltodextrin, and no artificial flavors, colors, or preservatives.
Product Safety
All of our products are manufactured in the US in an FDA and NSF cGMP registered facility.