Explore our effective micro-nutrients and premium ingredients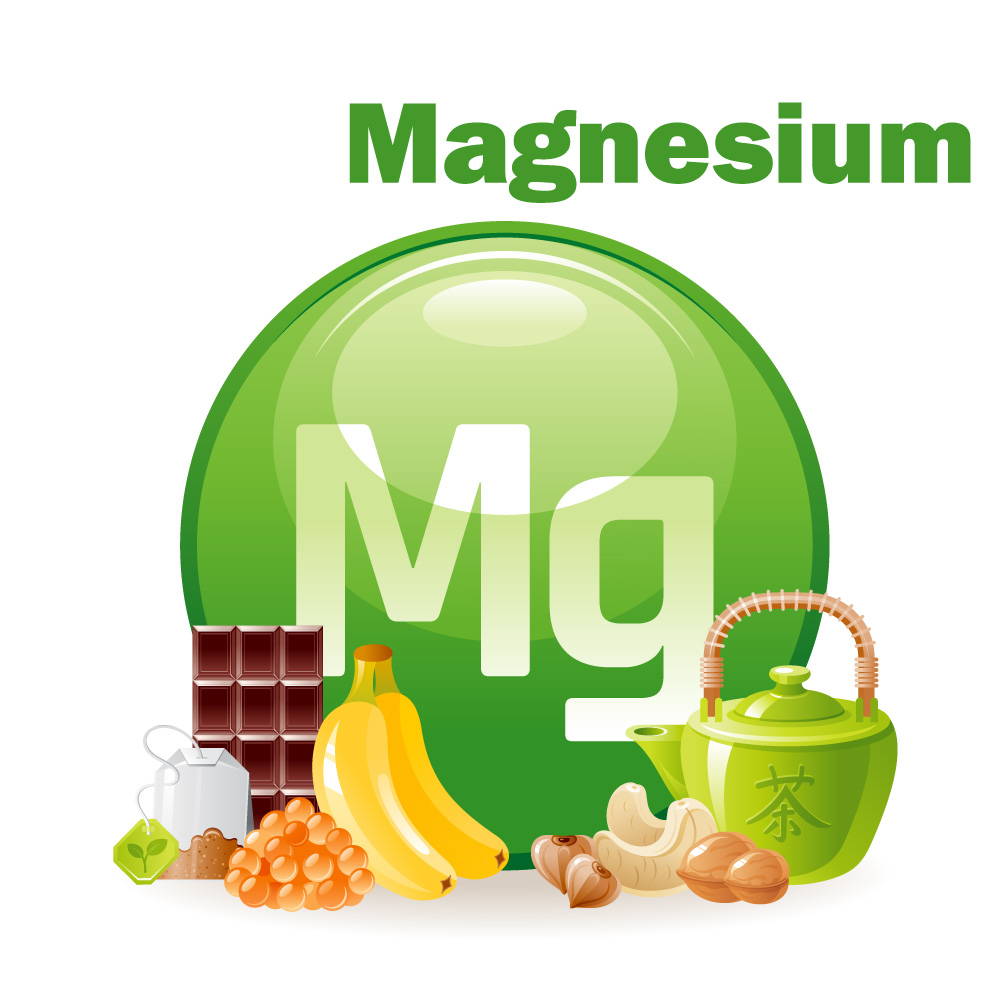 What is magnesium and what does it do?
Magnesium is a nutrient that the body needs to stay healthy. Magnesium is important for many processes in the body, including regulating muscle and nerve function, blood sugar levels, and blood pressure and making protein, bone, and DNA.
Magnesium, an abundant mineral in the body, is naturally present in many foods, added to other food products, available as a dietary supplement, and present in some medicines (such as antacids and laxatives). Magnesium is a cofactor in more than 300 enzyme systems that regulate diverse biochemical reactions in the body, including protein synthesis, muscle and nerve function, blood glucose control, and blood pressure regulation [1-3]. Magnesium is required for energy production, oxidative phosphorylation, and glycolysis. It contributes to the structural development of bone and is required for the synthesis of DNA, RNA, and the antioxidant glutathione. Magnesium also plays a role in the active transport of calcium and potassium ions across cell membranes, a process that is important to nerve impulse conduction, muscle contraction, and normal heart rhythm [3].
An adult body contains approximately 25 g magnesium, with 50% to 60% present in the bones and most of the rest in soft tissues [4]. Less than 1% of total magnesium is in blood serum, and these levels are kept under tight control. Normal serum magnesium concentrations range between 0.75 and 0.95 millimoles (mmol)/L [1,5]. Hypomagnesemia is defined as a serum magnesium level less than 0.75 mmol/L [6]. Magnesium homeostasis is largely controlled by the kidney, which typically excretes about 120 mg magnesium into the urine each day [2]. Urinary excretion is reduced when magnesium status is low [1].


How much magnesium do I need?
The amount of magnesium you need depends on your age and sex. Average daily recommended amounts are listed below in milligrams (mg):
| | |
| --- | --- |
| LifeStage | RecommendedAmount |
| Birth to 6 months | 30 mg |
| Infants 7–12 months | 75 mg |
| Children 1–3 years | 80 mg |
| Children 4–8 years | 130 mg |
| Children 9–13 years | 240 mg |
| Teen boys 14–18 years | 410 mg |
| Teen girls 14–18 years | 360 mg |
| Men | 400–420 mg |
| Women | 310–320 mg |
| Pregnant teens | 400 mg |
| Pregnant women | 350–360 mg |
| Breastfeeding teens | 360 mg |
| Breastfeeding women | 310–320 mg |


What happens if I don't get enough magnesium?
In the short term, getting too little magnesium does not produce obvious symptoms. When healthy people have low intakes, the kidneys help retain magnesium by limiting the amount lost in urine. Low magnesium intakes for a long period of time, however, can lead to magnesium deficiency. In addition, some medical conditions and medications interfere with the body's ability to absorb magnesium or increase the amount of magnesium that the body excretes, which can also lead to magnesium deficiency. Symptoms of magnesium deficiency include loss of appetite, nausea, vomiting, fatigue, and weakness. Extreme magnesium deficiency can cause numbness, tingling, muscle cramps, seizures, personality changes, and an abnormal heart rhythm.
The following groups of people are more likely than others to get too little magnesium:
People with gastrointestinal diseases (such as Crohn's disease and celiac disease)

People with type 2 diabetes

People with long-term alcoholism

Older people


What are some effects of magnesium on health?
Scientists are studying magnesium to understand how it affects health. Here are some examples of what this research has shown.
High blood pressure
and heart disease
High blood pressure is a major risk factor for cardiovascular disease and stroke. Magnesium supplements might decrease blood pressure, but only by a small amount. Some studies show that people who have more magnesium in their diets have a lower risk of some types of heart disease and stroke. But in many of these studies, it's hard to know how much of the effect was due to magnesium as opposed to other nutrients.
People with higher amounts of magnesium in their diets tend to have a lower risk of developing type 2 diabetes. Magnesium helps the body break down sugars and might help reduce the risk of insulin resistance (a condition that leads to diabetes). Scientists are studying whether magnesium supplements might help people who already have type 2 diabetes control their disease. More research is needed to better understand whether magnesium can help treat diabetes.
Magnesium is important for healthy bones. People with higher intakes of magnesium have a higher bone mineral density, which is important in reducing the risk of bone fractures and osteoporosis. Getting more magnesium from foods or dietary supplements might help older women improve their bone mineral density. More research is needed to better understand whether magnesium supplements can help reduce the risk of osteoporosis or treat this condition.
People who have migraine headaches sometimes have low levels of magnesium in their blood and other tissues. Several small studies found that magnesium supplements can modestly reduce the frequency of migraines. However, people should only take magnesium for this purpose under the care of a healthcare provider. More research is needed to determine whether magnesium supplements can help reduce the risk of migraines or ease migraine symptoms.


Can magnesium be harmful?
Magnesium that is naturally present in food and beverages is not harmful and does not need to be limited. In healthy people, the kidneys can get rid of any excess in the urine. But magnesium in dietary supplements and medications should not be consumed in amounts above the upper limit, unless recommended by a healthcare provider.


Where can I find out more about magnesium?
• For general information on magnesium:
• For more information on food sources of magnesium:
• For more advice on choosing dietary supplements:
• For information about building a healthy dietary pattern:
1. Institute of Medicine (IOM). Food and Nutrition Board. Dietary Reference Intakes: Calcium, Phosphorus, Magnesium, Vitamin D and Fluoride . Washington, DC: National Academy Press, 1997.
2. Rude RK. Magnesium. In: Coates PM, Betz JM, Blackman MR, Cragg GM, Levine M, Moss J, White JD, eds. Encyclopedia of Dietary Supplements. 2nd ed. New York, NY: Informa Healthcare; 2010:527-37.
3. Rude RK. Magnesium. In: Ross AC, Caballero B, Cousins RJ, Tucker KL, Ziegler TR, eds. Modern Nutrition in Health and Disease. 11th ed. Baltimore, Mass: Lippincott Williams & Wilkins; 2012:159-75.
4. Volpe SL. Magnesium. In: Erdman JW, Macdonald IA, Zeisel SH, eds. Present Knowledge in Nutrition. 10th ed. Ames, Iowa; John Wiley & Sons, 2012:459-74.
5. Elin RJ. Assessment of magnesium status for diagnosis and therapy. Magnes Res 2010;23:1-5. [PubMed abstract]
6. Gibson, RS. Principles of Nutritional Assessment, 2nd ed. New York, NY: Oxford University Press, 2005.
Nine medical doctors used their research findings to develop Dr's Grow UP in the biotech lab. The result is a product containing 22 ingredients mixed in the perfect proportions to maximize bone health and height development.

Science-Backed Formulations
Carrying out extensive research and keeping up-to-date with the latest scientific findings is our key to develop superior formulations.
Best Growth Support for Kids & Teenagers
Our products contain essential ingredients for a healthy bone and height development of kids from 10 years and teenagers.
Fighting Aging Effects
We are dedicated to create formulations that delay and restrict the extent of adult's bone density decrease.
Unmatched Product Quality
Only 100% natural ingredients that contain no soy, no gluten, no GMOs, no maltodextrin, and no artificial flavors, colors, or preservatives.
Product Safety
All of our products are manufactured in the US in an FDA and NSF cGMP registered facility.