Explore our effective micro-nutrients and premium ingredients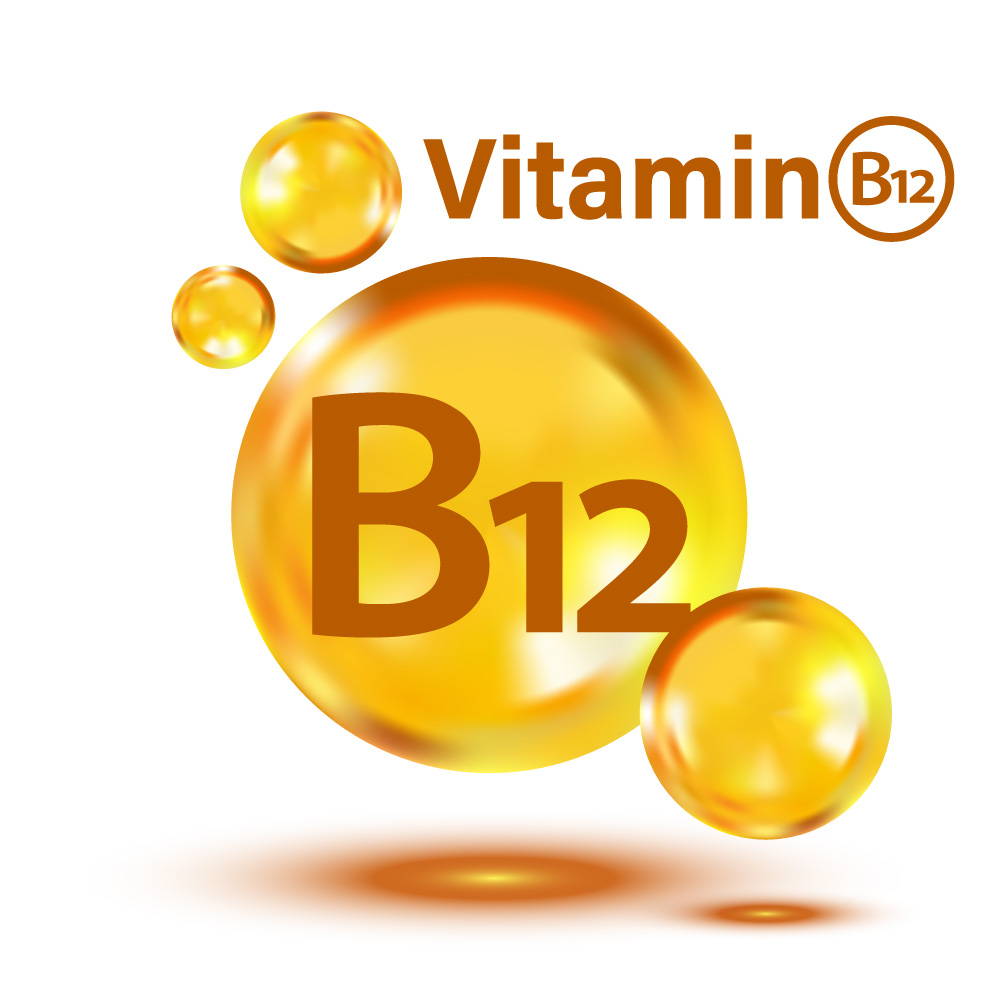 What is vitamin B12 and what does it do?
Vitamin B12 is a nutrient that helps keep your body's blood and nerve cells healthy and helps make DNA, the genetic material in all of your cells. Vitamin B12 also helps prevent megaloblastic anemia, a blood condition that makes people tired and weak.
Vitamin B12 is a water-soluble vitamin that is naturally present in some foods, added to others, and available as a dietary supplement and a prescription medication. Because vitamin B12 contains the mineral cobalt, compounds with vitamin B12 activity are collectively called "cobalamins" [1]. Methylcobalamin and 5-deoxyadenosylcobalamin are the metabolically active forms of vitamin B12. However, two others forms, hydroxycobalamin and cyanocobalamin, become biologically active after they are converted to methylcobalamin or 5-deoxyadenosylcobalamin [1-3].
Vitamin B12 is required for the development, myelination, and function of the central nervous system; healthy red blood cell formation; and DNA synthesis [1,4,5]. Vitamin B12 functions as a cofactor for two enzymes, methionine synthase and L-methylmalonyl-CoA mutase [1-3,5].
Methionine synthase catalyzes the conversion of homocysteine to the essential amino acid methionine [1,2]. Methionine is required for the formation of S-adenosylmethionine, a universal methyl donor for almost 100 different substrates, including DNA, RNA, proteins, and lipids [3,5]. L-methylmalonyl-CoA mutase converts L-methylmalonyl-CoA to succinyl-CoA in the metabolism of propionate, a short-chain fatty acid [2].
Vitamin B12 is bound to protein in food and must be released before it is absorbed [5]. The process starts in the mouth when food is mixed with saliva. The freed vitamin B12 then binds with haptocorrin, a cobalamin-binding protein in the saliva. More vitamin B12 is released from its food matrix by the activity of hydrochloric acid and gastric protease in the stomach, where it then binds to haptocorrin [1]. In the duodenum, digestive enzymes free the vitamin B12 from haptocorrin, and this freed vitamin B12 combines with intrinsic factor, a transport and delivery binding protein secreted by the stomach's parietal cells. The resulting complex is absorbed in the distal ileum by receptor-mediated endocytosis [1,5]. If vitamin B12 is added to fortified foods and dietary supplements, it is already in free form and therefore does not require the separation step.


How much vitamin B12 do I need?
The amount of vitamin B12 you need each day depends on your age. Average daily recommended amounts for different ages are listed below in micrograms (mcg):
| | |
| --- | --- |
| LifeStage | RecommendedAmount |
| Birth to 6 months | 0.4 mcg |
| Infants 7–12 months | 0.5 mcg |
| Children 1–3 years | 0.9 mcg |
| Children 4–8 years | 1.2 mcg |
| Children 9–13 years | 1.8 mcg |
| Teens 14–18 years | 2.4 mcg |
| Adults | 2.4 mcg |
| Pregnant teens and women | 2.6 mcg |
| Breastfeeding teens and women | 2.8 mcg |


What happens if I don't get enough vitamin B12?
If you have a vitamin B12 deficiency, you may feel tired or weak. These are symptoms of megaloblastic anemia, which is a hallmark of vitamin B12 deficiency. You might also have pale skin, heart palpitations, loss of appetite, weight loss, and infertility. Your hands and feet might become numb or tingly, a sign of nerve problems. Other symptoms of vitamin B12 deficiency include problems with balance, depression, confusion, dementia, poor memory, and soreness of the mouth or tongue.
In infants, signs of a vitamin B12 deficiency include failure to thrive, delays in reaching the typical developmental milestones, and megaloblastic anemia.
Vitamin B12 deficiency can damage the nervous system even in people who don't have megaloblastic anemia, so it's important to treat a deficiency as soon as possible.


What are some effects of vitamin B12 on health?
Scientists are studying vitamin B12 to understand how it affects health. Here are several examples of what this research has shown.
Some research shows that people with high levels of vitamin B12 have a higher risk of cancer. But other research shows that the risk of cancer is higher in people with low levels of vitamin B12 or that vitamin B12 levels don't affect cancer risk. More evidence is needed to understand whether vitamin B12 levels affect cancer risk.

Vitamin B12 supplements (along with other B vitamins) reduce blood levels of homocysteine, a compound linked to an increased risk of having a heart attack or stroke But despite reducing homocysteine, research shows that these vitamins don't reduce the risk of developing cardiovascular disease or stroke.
Dementia and cognitive function
Most studies show that low blood levels of vitamin B12 don't affect the risk of cognitive decline in older people, regardless of whether they have dementia or Alzheimer's disease. More clinical trials are needed to better understand the effects of vitamin B12 supplementation on cognitive function in older adults.
Manufacturers often promote vitamin B12 supplements for energy, athletic performance, and endurance. But vitamin B12 doesn't provide these benefits in people who get enough B12 from their diet.



Can vitamin B12 be harmful?
Vitamin B12 has not been shown to cause any harm, even at high doses.


Where can I find out more about vitamin B12?
• For general information on vitamin B12:
• For more information on food sources of vitamin B12:
• For more advice on choosing dietary supplements:
• For information about building a healthy dietary pattern:
1. Institute of Medicine, Food and Nutrition Board. Dietary Reference Intakes for Thiamin, Riboflavin, Niacin, Vitamin B(6), Folate, Vitamin B(12), Pantothenic Acid, Biotin, and Choline. Washington, DC: National Academies Press; 1998.
2. Carmel R. Cobalamin (vitamin B12). In: Ross AC, Caballero B, Cousins RJ, Tucker KL, Ziegler TR, eds. Modern Nutrition in Health and Disease. 11th ed. Baltimore, MD: Lippincott Williams & Wilkins; 2014:369-89.
3. Allen LH. Vitamin B12. In: Coates PM, Betz JM, Blackman MR, et al., eds. Encyclopedia of Dietary Supplements. 2nd ed. London and New York: Informa Healthcare; 2010:812-20.
4. Allen LH. Vitamin B-12. Adv Nutr 2012;3:54-5. [PubMed abstract]
5. Stabler SP. Vitamin B12. In: Marriott BP, Birt DF, Stallings VA, Yates AA, eds. Present Knowledge in Nutrition. 11th ed. Washington, DC: Elsevier; 2020:257-71.
6. Health information data from U.S. National Institutes of Health
Nine medical doctors used their research findings to develop Dr's Grow UP in the biotech lab. The result is a product containing 22 ingredients mixed in the perfect proportions to maximize bone health and height development.

Science-Backed Formulations
Carrying out extensive research and keeping up-to-date with the latest scientific findings is our key to develop superior formulations.
Best Growth Support for Kids & Teenagers
Our products contain essential ingredients for a healthy bone and height development of kids from 10 years and teenagers.
Fighting Aging Effects
We are dedicated to create formulations that delay and restrict the extent of adult's bone density decrease.
Unmatched Product Quality
Only 100% natural ingredients that contain no soy, no gluten, no GMOs, no maltodextrin, and no artificial flavors, colors, or preservatives.
Product Safety
All of our products are manufactured in the US in an FDA and NSF cGMP registered facility.