Explore our effective micro-nutrients and premium ingredients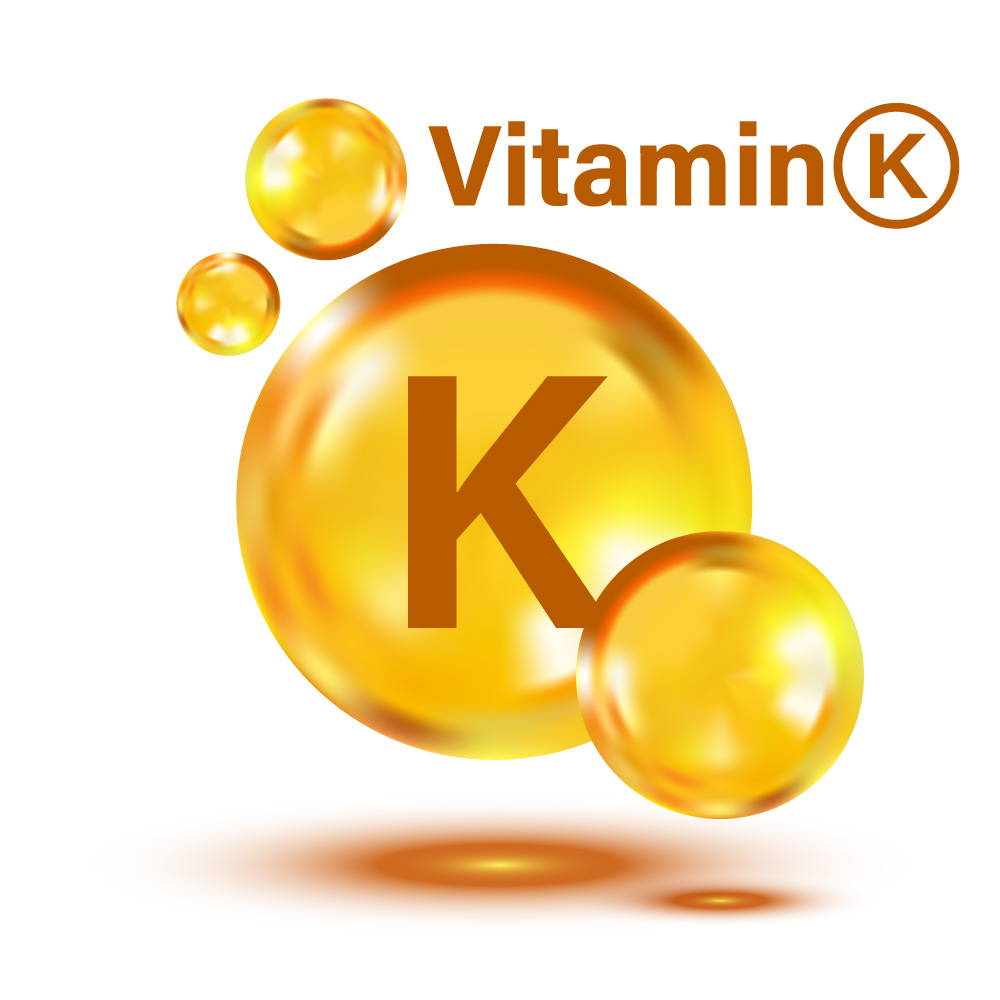 What is vitamin K and what does it do?
Vitamin K is a nutrient that the body needs to stay healthy. It's important for blood clotting and healthy bones and also has other functions in the body. If you are taking a blood thinner such as warfarin (Coumadin®), it's very important to get about the same amount of vitamin K each day.
"Vitamin K," the generic name for a family of compounds with a common chemical structure of 2-methyl-1,4-naphthoquinone, is a fat-soluble vitamin that is naturally present in some foods and is available as a dietary supplement [1]. These compounds include phylloquinone (vitamin K1) and a series of menaquinones (vitamin K2) [2]. Menaquinones have unsaturated isoprenyl side chains and are designated as MK-4 through MK-13, based on the length of their side chain [1,2]. MK-4, MK-7, and MK-9 are the most well-studied menaquinones.
Phylloquinone is present primarily in green leafy vegetables and is the main dietary form of vitamin K [3]. Menaquinones, which are predominantly of bacterial origin, are present in modest amounts in various animal-based and fermented foods [1,4]. Almost all menaquinones, in particular the long-chain menaquinones, are also produced by bacteria in the human gut [5,6]. MK-4 is unique in that it is produced by the body from phylloquinone via a conversion process that does not involve bacterial action [7].
Vitamin K functions as a coenzyme for vitamin K-dependent carboxylase, an enzyme required for the synthesis of proteins involved in hemostasis (blood clotting) and bone metabolism, and other diverse physiological functions [3,5]. Prothrombin (clotting factor II) is a vitamin K-dependent protein in plasma that is directly involved in blood clotting. Warfarin (Coumadin®) and some anticoagulants used primarily in Europe antagonize the activity of vitamin K and, in turn, prothrombin [8]. For this reason, individuals who are taking these anticoagulants need to maintain consistent vitamin K intakes.
Matrix Gla-protein, a vitamin K-dependent protein present in vascular smooth muscle, bone, and cartilage, is the focus of considerable scientific research because it might help reduce abnormal calcification [9]. Osteocalcin is another vitamin K-dependent protein that is present in bone and may be involved in bone mineralization or turnover [5].
Like dietary lipids and other fat-soluble vitamins, ingested vitamin K is incorporated into mixed micelles via the action of bile and pancreatic enzymes, and it is absorbed by enterocytes of the small intestine [10]. From there, vitamin K is incorporated into chylomicrons, secreted into the lymphatic capillaries, transported to the liver, and repackaged into very low-density lipoproteins [2,10]. Vitamin K is present in the liver and other body tissues, including the brain, heart, pancreas, and bone [2,3,11].
In the circulation, vitamin K is carried mainly in lipoproteins [2]. Compared to the other fat-soluble vitamins, very small amounts of vitamin K circulate in the blood. Vitamin K is rapidly metabolized and excreted. Based on phylloquinone measurements, the body retains only about 30% to 40% of an oral physiological dose, while about 20% is excreted in the urine and 40% to 50% in the feces via bile [2,11]. This rapid metabolism accounts for vitamin K's relatively low blood levels and tissue stores compared to those of the other fat-soluble vitamins [11].
Little is known about the absorption and transport of vitamin K produced by gut bacteria, but research indicates that substantial quantities of long-chain menaquinones are present in the large bowel [7]. Although the amount of vitamin K that the body obtains in this manner is unclear, experts believe that these menaquinones satisfy at least some of the body's requirement for vitamin K [6,7].
All our products contain as the form of MK-7(Menaquinone-7), most active and useful form of Vitamin K on our body.


How much vitamin K do I need?
The amount of vitamin K you need depends on your age and sex. Average daily recommended amounts are listed below in micrograms (mcg).
| | |
| --- | --- |
| LifeStage | RecommendedAmount |
| Birth to 6 months | 2.0 mcg |
| 7–12 months | 2.5 mcg |
| 1–3 years | 30 mcg |
| 4–8 years | 55 mcg |
| 9–13 years | 60 mcg |
| 14–18 years | 75 mcg |
| Adult men 19 years and older | 120 mcg |
| Adult women 19 years and older | 90 mcg |
| Pregnant or breastfeeding teens | 75 mcg |
| Pregnant or breastfeeding women | 90 mcg |


What happens if I don't get enough vitamin K?
Severe vitamin K deficiency can cause bruising and bleeding problems because the blood will take longer to clot. Vitamin K deficiency might reduce bone strength and increase the risk of getting osteoporosis because the body needs vitamin K for healthy bones.


What are some effects of vitamin K on health?
Scientists are studying vitamin K to understand how it affects our health. Here are some examples of what this research has shown.
Vitamin K is important for healthy bones. Some research shows that people who eat more vitamin K-rich foods have stronger bones and are less likely to break a hip than those who eat less of these foods. A few studies have found that taking vitamin K supplements improves bone strength and the chances of breaking a bone, but other studies have not. More research is needed to better understand if vitamin K supplements can help improve bone health and reduce osteoporosis risk.
Scientists are studying whether low blood levels of vitamin K increase the risk of coronary heart disease, perhaps by making blood vessels that feed the heart stiffer and narrower. More research is needed to understand whether vitamin K supplements might help prevent heart disease.


Where can I find out more about vitamin K?
• For general information on vitamin K:
• For more information on food sources of vitamin K:
o Office of Dietary Supplements Health Professional Fact Sheet on Vitamin K
o USDA Nutrient Lists for vitamin K as either:
• For more advice on choosing dietary supplements:
• For information about building a healthy dietary pattern:
1. Booth SL. Vitamin K: food composition and dietary intakes. Food Nutr Res 2012;56.
[PubMed abstract]
2. Ferland G. Vitamin K. In: Erdman JW, Macdonald IA, Zeisel SH, eds. Present Knowledge in Nutrition. 10th ed. Washington, DC: Wiley-Blackwell; 2012:230-47.
3. Institute of Medicine. Dietary reference intakes for vitamin A, vitamin K, arsenic, boron, chromium, copper, iodine, iron, manganese, molybdenum, nickel, silicon, vanadium, and zinc. Washington, DC: National Academy Press; 2001.
4. Elder SJ, Haytowitz DB, Howe J, Peterson JW, Booth SL. Vitamin K contents of meat, dairy, and fast food in the U.S. Diet. J Agric Food Chem 2006;54:463-7. [PubMed abstract]
5. Suttie JW. Vitamin K. In: Coates PM, Betz JM, Blackman MR, et al., eds. Encyclopedia of Dietary Supplements. 2nd ed. London and New York: Informa Healthcare; 2010:851-60.
6. Conly JM, Stein K, Worobetz L, Rutledge-Harding S. The contribution of vitamin K2 (menaquinones) produced by the intestinal microflora to human nutritional requirements for vitamin K. Am J Gastroenterol 1994;89:915-23. [PubMed abstract]
7. Suttie JW. Vitamin K. In: Ross AC, Caballero B, Cousins RJ, Tucker KL, Ziegler TR, eds. Modern Nutrition in Health and Disease. 11th ed. Baltimore, MD: Lippincott Williams & Wilkins; 2014:305-16.
8. Ufer M. Comparative pharmacokinetics of vitamin K antagonists: warfarin, phenprocoumon and acenocoumarol. Clin Pharmacokinet 2005;44:1227-46. [PubMed abstract]
9. Schurgers LJ. Vitamin K: key vitamin in controlling vascular calcification in chronic kidney disease. Kidney Int2013;83:782-4. [PubMed abstract]
10. Shearer MJ, Fu X, Booth SL. Vitamin K nutrition, metabolism, and requirements: current concepts and future research. Adv Nutr 2012;3:182-95. [PubMed abstract]
11. Shearer MJ, Newman P. Metabolism and cell biology of vitamin K. Thromb Haemost 2008;100:530-47. [PubMed abstract]
12. Health information data from U.S. National Institutes of Health
Nine medical doctors used their research findings to develop Dr's Grow UP in the biotech lab. The result is a product containing 22 ingredients mixed in the perfect proportions to maximize bone health and height development.

Science-Backed Formulations
Carrying out extensive research and keeping up-to-date with the latest scientific findings is our key to develop superior formulations.
Best Growth Support for Kids & Teenagers
Our products contain essential ingredients for a healthy bone and height development of kids from 10 years and teenagers.
Fighting Aging Effects
We are dedicated to create formulations that delay and restrict the extent of adult's bone density decrease.
Unmatched Product Quality
Only 100% natural ingredients that contain no soy, no gluten, no GMOs, no maltodextrin, and no artificial flavors, colors, or preservatives.
Product Safety
All of our products are manufactured in the US in an FDA and NSF cGMP registered facility.