Explore our effective micro-nutrients and premium ingredients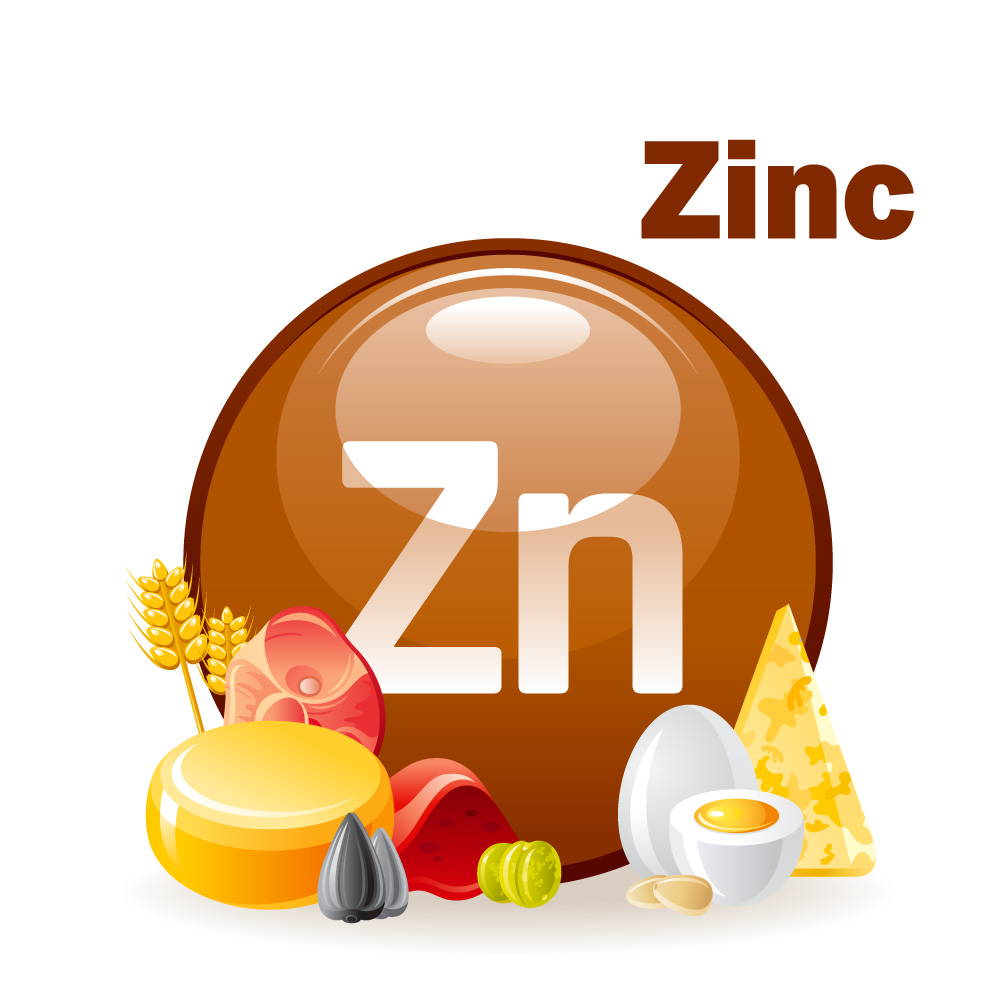 What is zinc and what does it do?
Zinc is a nutrient that people need to stay healthy. Zinc is found in cells throughout the body. It helps the immune system fight off invading bacteria and viruses. The body also needs zinc to make proteins and DNA, the genetic material in all cells. During pregnancy, infancy, and childhood, the body needs zinc to grow and develop properly. Zinc also helps wounds heal and is important for proper senses of taste and smell.
Zinc is an essential mineral that is naturally present in some foods, added to others, and available as a dietary supplement. Zinc is also found in many cold lozenges and some over-the-counter drugs sold as cold remedies.
Zinc is involved in numerous aspects of cellular metabolism. It is required for the catalytic activity of approximately 100 enzymes [1,2] and it plays a role in immune function [3,4], protein synthesis [4], wound healing [5], DNA synthesis [2,4], and cell division [4]. Zinc also supports normal growth and development during pregnancy, childhood, and adolescence [6-8] and is required for proper sense of taste and smell [9]. A daily intake of zinc is required to maintain a steady state because the body has no specialized zinc storage system [10].
The amount of zinc you need each day depends on your age. Average daily recommended amounts for different ages are listed below in milligrams (mg):
| | |
| --- | --- |
| LifeStage | RecommendedAmount |
| Birth to 6 months | 2 mg |
| Infants 7–12 months | 3 mg |
| Children 1–3 years | 3 mg |
| Children 4–8 years | 5 mg |
| Children 9–13 years | 8 mg |
| Teens 14–18 years (boys) | 11 mg |
| Teens 14–18 years (girls) | 9 mg |
| Adults (men) | 11 mg |
| Adults (women) | 8 mg |
| Pregnant teens | 12 mg |
| Pregnant women | 11 mg |
| Breastfeeding teens | 13 mg |
| Breastfeeding women | 12 mg |


What happens if I don't get enough zinc ?
Zinc deficiency is rare in North America. It causes slow growth in infants and children, delayed sexual development in adolescents and impotence in men. Zinc deficiency also causes hair loss, diarrhea, eye and skin sores and loss of appetite. Weight loss, problems with wound healing, decreased ability to taste food, and lower alertness levels can also occur.
Many of these symptoms can be signs of problems other than zinc deficiency. If you have these symptoms, your doctor can help determine whether you might have a zinc deficiency.


What are some effects of zinc on health?
Scientists are studying zinc to learn about its effects on the immune system (the body's defense system against bacteria, viruses, and other foreign invaders). Scientists are also researching possible connections between zinc and the health problems discussed below.
Immune system
and wound healing
The body's immune system needs zinc to do its job. Older people and children in developing countries who have low levels of zinc might have a higher risk of getting pneumonia and other infections. Zinc also helps the skin stay healthy. Some people who have skin ulcers might benefit from zinc dietary supplements, but only if they have low levels of zinc.
Age-related macular
degeneration (AMD)
AMD is an eye disease that gradually causes vision loss. Research suggests that zinc might help slow AMD progression. In a large study among older people with AMD who were at high risk of developing advanced AMD, those who took a daily dietary supplement with 80 mg zinc, 500 mg vitamin C, 400 IU vitamin E, 15 mg beta-carotene, and 2 mg copper for about 6 years had a lower chance of developing advanced AMD and less vision loss than those who did not take the dietary supplement. In the same study, people at high risk of the disease who took dietary supplements containing only zinc also had a lower risk of getting advanced AMD than those who did not take zinc dietary supplements. People who have or are developing the disease might want to talk with their doctor about taking dietary supplements.
Children in developing countries often die from diarrhea. Studies show that zinc dietary supplements help reduce the symptoms and duration of diarrhea in these children, many of whom are zinc deficient or otherwise malnourished. The World Health Organization and UNICEF recommend that children with diarrhea take zinc for 10–14 days (20 mg/day, or 10 mg/day for infants under 6 months). It is not clear whether zinc dietary supplements can help treat diarrhea in children who get enough zinc, such as most children in the United States.
Some studies suggest that zinc lozenges or syrup (but not zinc dietary supplements in pill form) help speed recovery from the common cold and reduce its symptoms if taken within 24 hours of coming down with a cold. However, more study is needed to determine the best dose and form of zinc, as well as how long it should be taken before zinc can be recommended as a treatment for the common cold.
Yes, if you get too much. Signs of too much zinc include nausea, vomiting, loss of appetite, stomach cramps, diarrhea, and headaches. When people take too much zinc for a long time, they sometimes have problems such as low copper levels, lower immunity, and low levels of HDL cholesterol (the "good" cholesterol).


Where can I find out more about zinc?
• For general information on zinc:
• For more information on food sources of zinc:
• For more advice on choosing dietary supplements:
• For information about building a healthy dietary pattern:
1. Sandstead HH. Understanding zinc: recent observations and interpretations. J Lab Clin Med 1994;124:322-7. [PubMed abstract]
2. Institute of Medicine, Food and Nutrition Board. Dietary Reference Intakes for Vitamin A, Vitamin K, Arsenic, Boron, Chromium, Copper, Iodine, Iron, Manganese, Molybdenum, Nickel, Silicon, Vanadium, and Zinc . Washington, DC: National Academy Press, 2001.
3. Solomons NW. Mild human zinc deficiency produces an imbalance between cell-mediated and humoral immunity. Nutr Rev 1998;56:27-8. [PubMed abstract]
4. Prasad AS. Zinc: an overview. Nutrition 1995;11:93-9. [PubMed abstract]
5. Heyneman CA. Zinc deficiency and taste disorders. Ann Pharmacother 1996;30:186-7. [PubMed abstract]
6. Simmer K, Thompson RP. Zinc in the fetus and newborn. Acta Paediatr Scand Suppl 1985;319:158-63. [PubMed abstract]
7. Fabris N, Mocchegiani E. Zinc, human diseases and aging. Aging (Milano) 1995;7:77-93. [PubMed abstract]
8. Maret W, Sandstead HH. Zinc requirements and the risks and benefits of zinc supplementation. J Trace Elem Med Biol 2006;20:3-18. [PubMed abstract]
9. Prasad AS, Beck FW, Grabowski SM, Kaplan J, Mathog RH. Zinc deficiency: changes in cytokine production and T-cell subpopulations in patients with head and neck cancer and in noncancer subjects. Proc Assoc Am Physicians 1997;109:68-77. [PubMed abstract]
10. Rink L, Gabriel P. Zinc and the immune system. Proc Nutr Soc 2000;59:541-52. [PubMed abstract]
11. Health information data from U.S. National Institutes of Health
Nine medical doctors used their research findings to develop Dr's Grow UP in the biotech lab. The result is a product containing 22 ingredients mixed in the perfect proportions to maximize bone health and height development.

Science-Backed Formulations
Carrying out extensive research and keeping up-to-date with the latest scientific findings is our key to develop superior formulations.
Best Growth Support for Kids & Teenagers
Our products contain essential ingredients for a healthy bone and height development of kids from 10 years and teenagers.
Fighting Aging Effects
We are dedicated to create formulations that delay and restrict the extent of adult's bone density decrease.
Unmatched Product Quality
Only 100% natural ingredients that contain no soy, no gluten, no GMOs, no maltodextrin, and no artificial flavors, colors, or preservatives.
Product Safety
All of our products are manufactured in the US in an FDA and NSF cGMP registered facility.