FREE SHIPPING ON ALL USA ORDERS
30 DAY MONEY-BACK GUARANTEE

100% SAFE AND SECURE CHECKOUT

Prime Height contains an advanced formulation for bone growth and health and helps optimize peak bone mass.*
Prime Height Powder is a delicious drink mix fortified with the nutrients essential for bone and height growth. It includes calcium, magnesium and zinc to support healthy bone development as well as vitamins, C, D, E and K for overall wellness.*


Research suggests that many children and adults are at risk of multiple micronutrient-deficiencies. Prime Height has been expertly formulated and is 100% vegan. A blend of vital ingredients (vitamins, minerals, amino acids, and kale) promotes bone growth & density.*


Prime Height includes the critical bone minerals calcium, magnesium, and zinc, as well as the powerful vitamins C, D, E, B6, B12, and K2. The amino acids L-Arginine and L-Ornithine help the body to increase the secretion of human growth hormone (HGH) which spurs the growth in children and adolescents. Kale is among the most nutrient-dense foods on our planet and is a good source of nutrients that most people don't get enough of.


The bone-boosting nutrients are contained in optimum amounts for high absorption. Vitamin D3, magnesium, and vitamin K2 are crucial co-factors that help your body to use absorb and use calcium effectively.


Try Prime Height and add all these critical nutrients to your regimen with one bone-boosting formula!
Taking Prime Height continuously ensures an optimal supply of nutrients for your bones. We recommend taking it for at least 6 to 12 months to experience the best results.
12 Benefits of Prime Height Powder
+ Delicious Taste

+ Supports bone growth*
+ Improves bone density*
+ Boosts Energy & Vitality*
+ Boosts and regulates energy levels with amino acids*
+ Supports a healthy immune system with 60 mg vitamin C*
+ Pairs calcium with vitamin D and vitamin K for improved absorption*
+ 200% DV of vitamin E for blood and brain health*
+ 250% DV of vitamin B12 to support the nervous system*
+ Doctor formulated & recommended
+ Manufactured in the USA in a cGMP-adhering facility
+ NO FRUCTOSE & NON-GMO
+ As a health supplement, mix one (1) stick packet with 8-10 oz (237-296ml) of water or to your desired preference. Stir until fully dissolved. Preferably consumed with a meal.
+ Do not exceed recommended dose. If you are pregnant or breastfeeding, do not use. Keep out of reach of children and tightly closed. Store in a coold, dry place. Do not use if packaging shows signs of damage.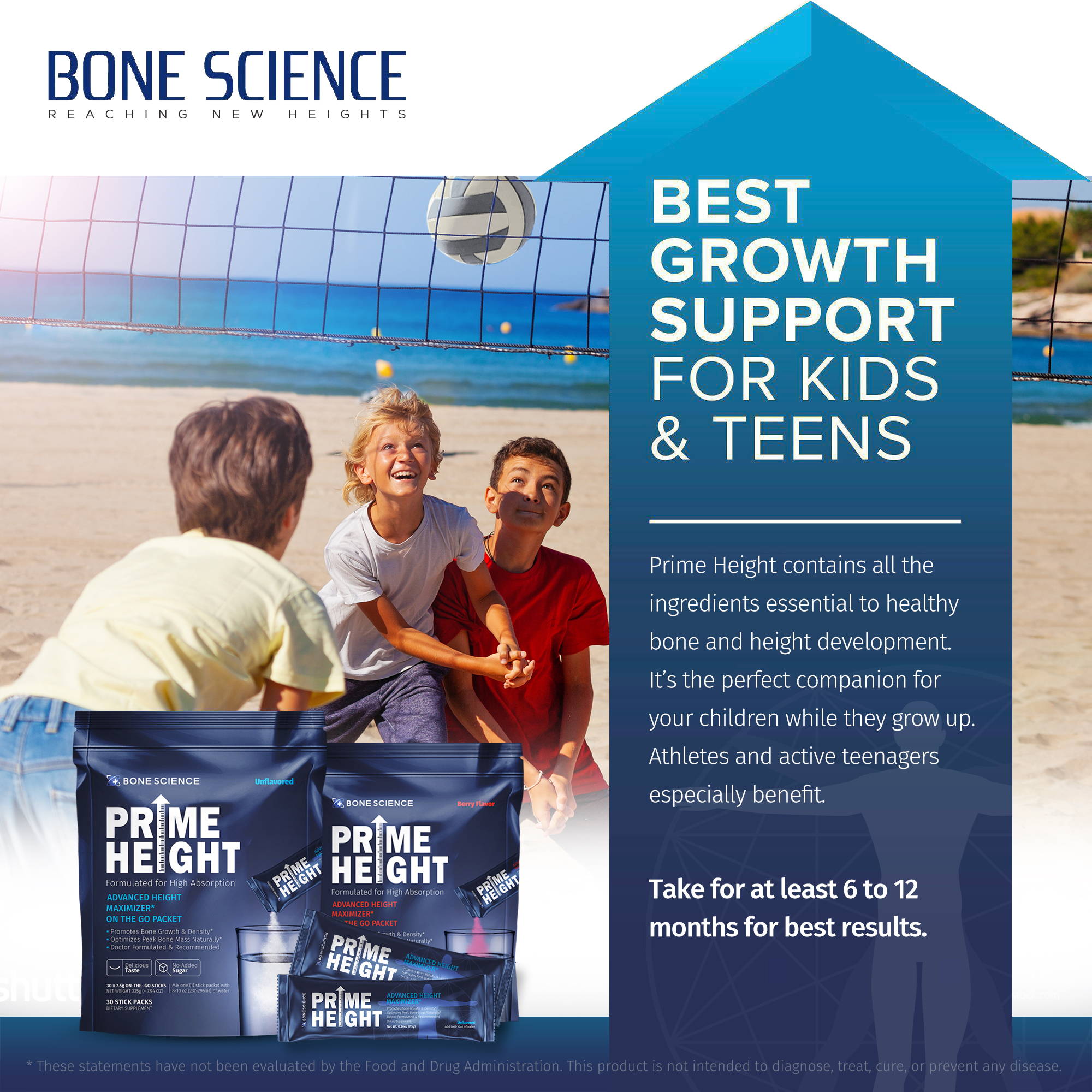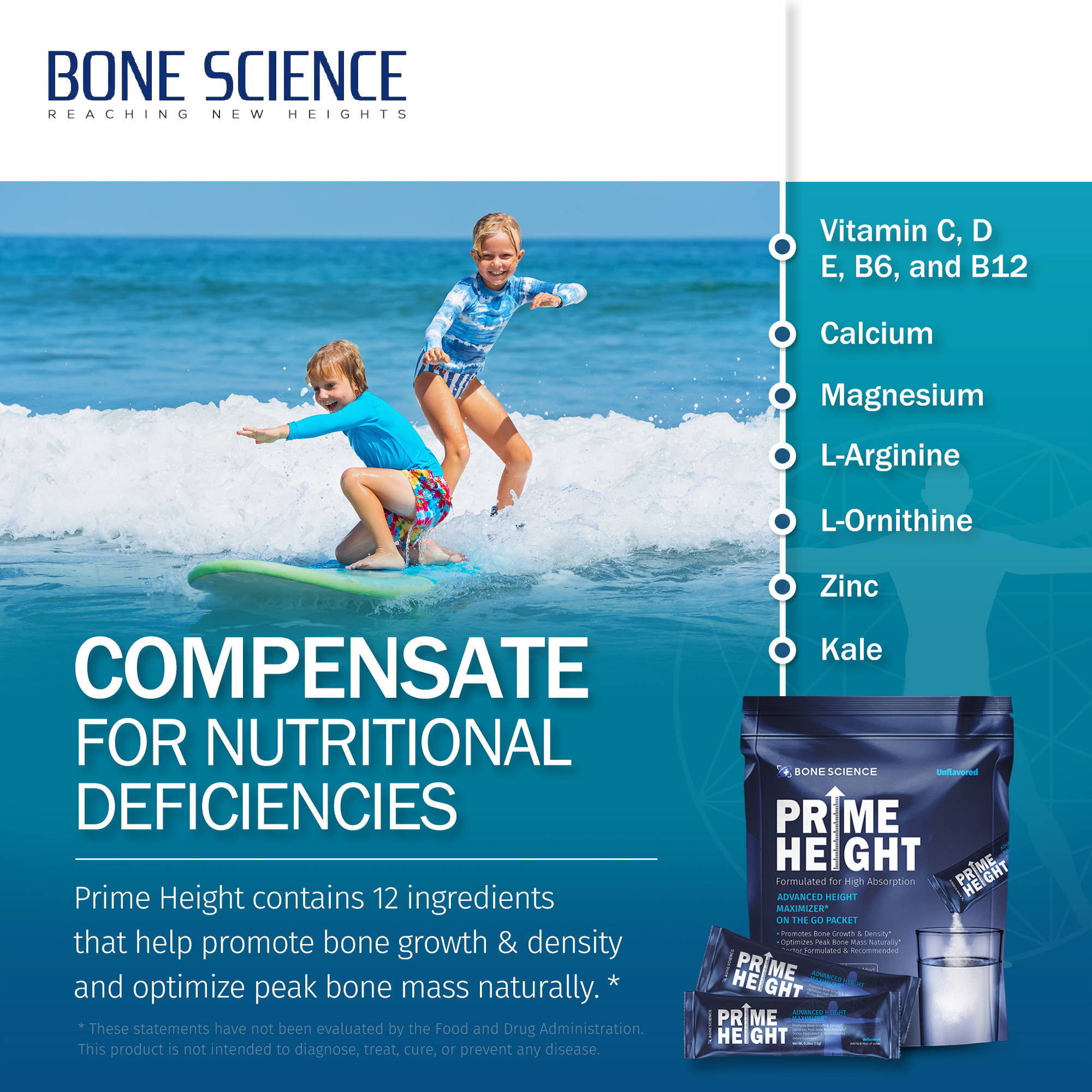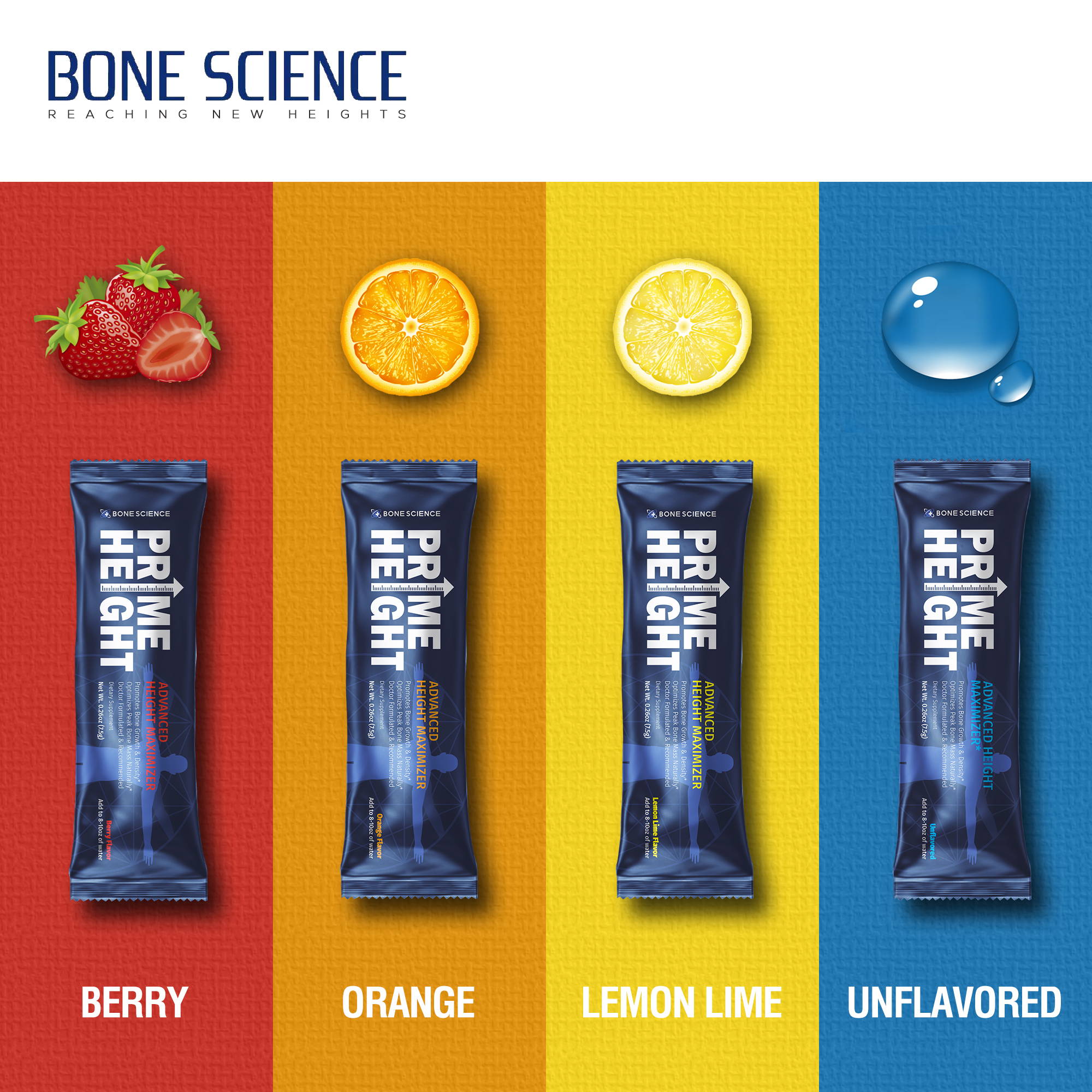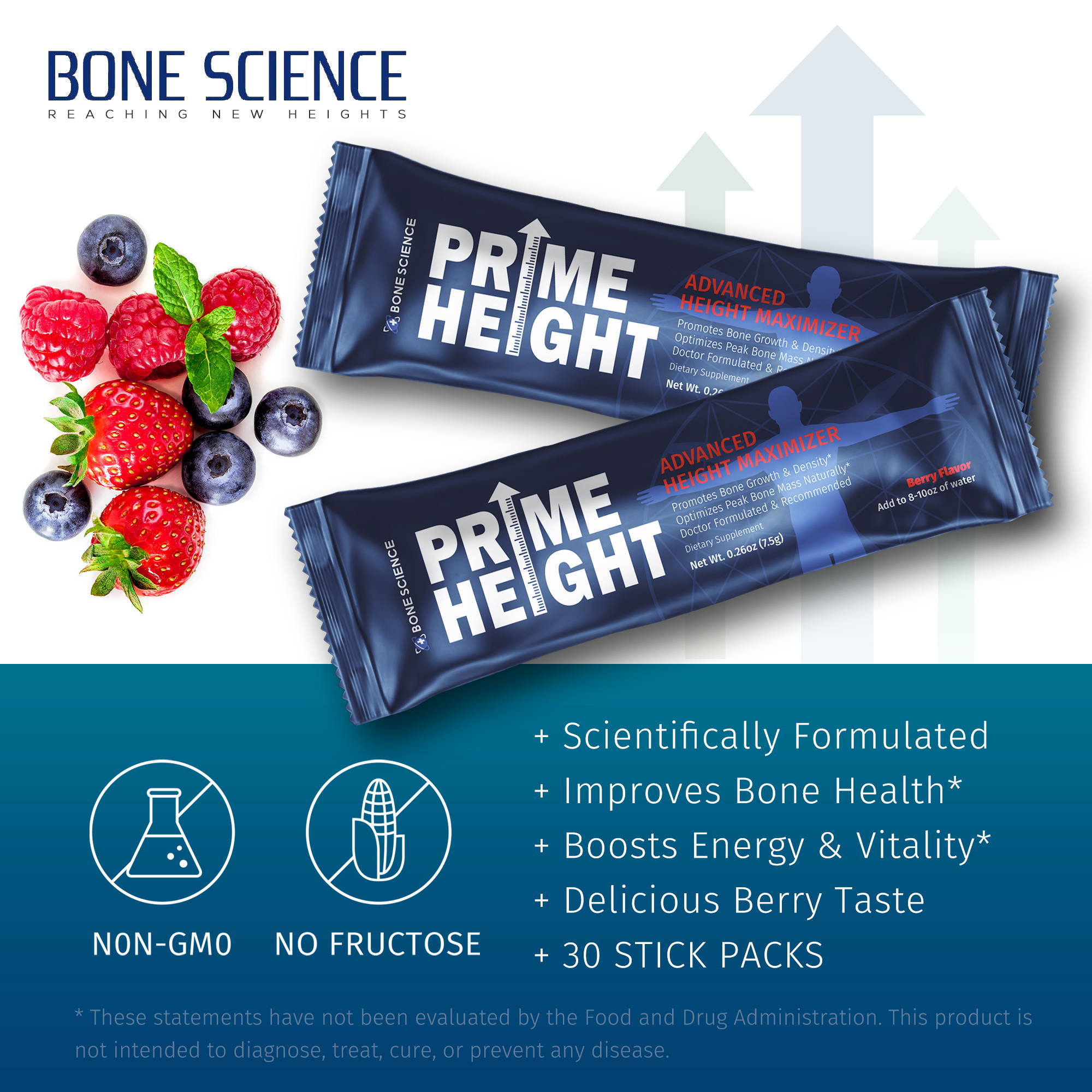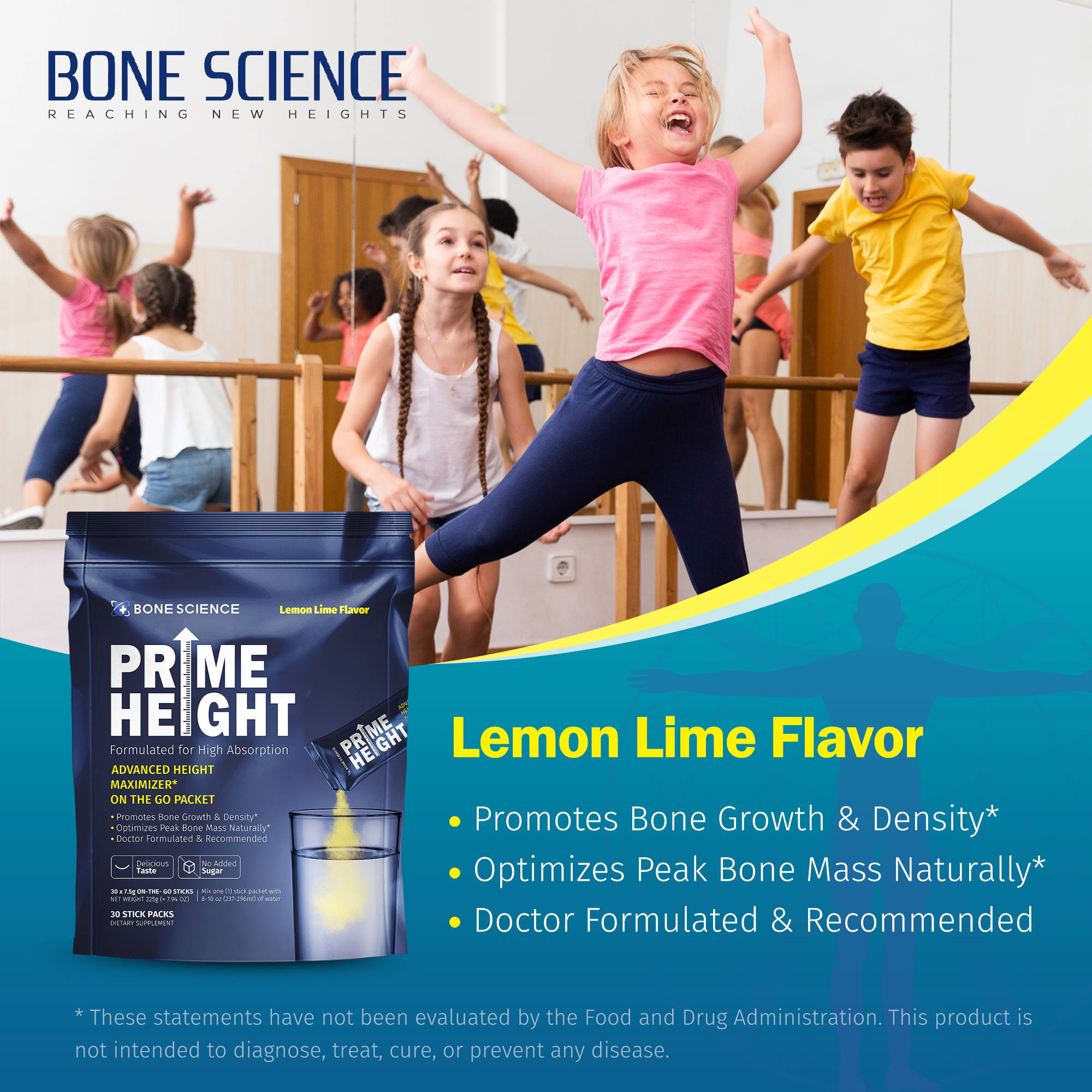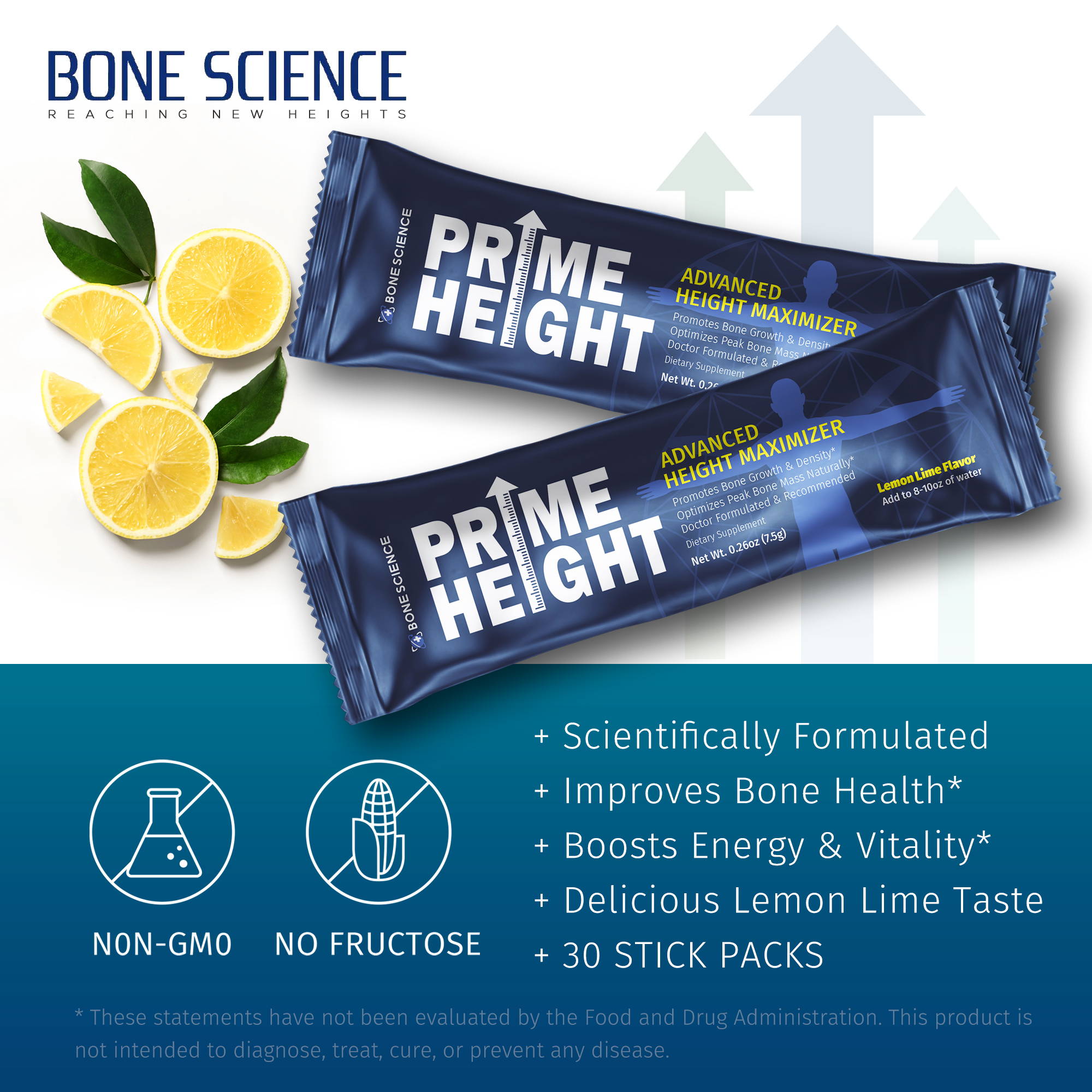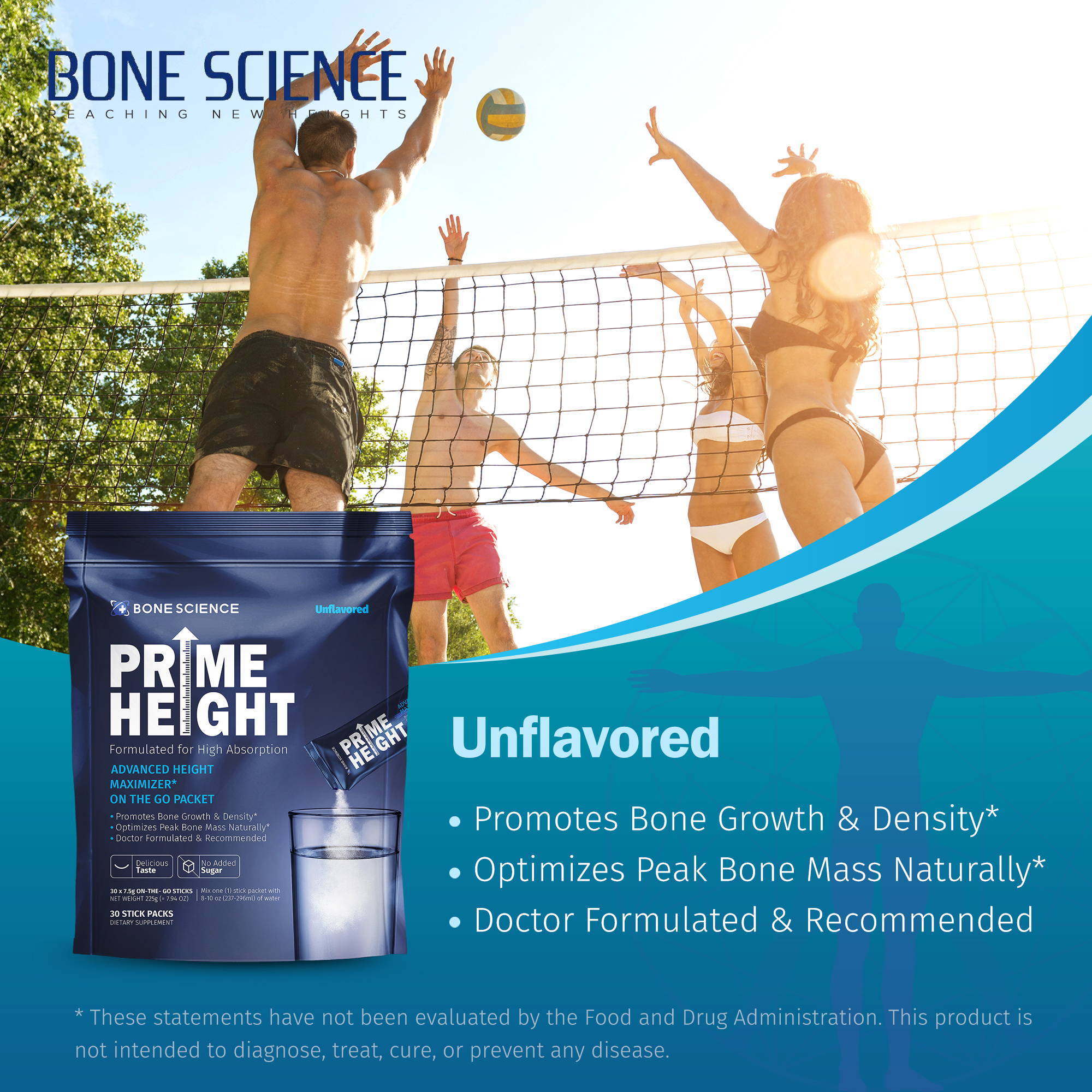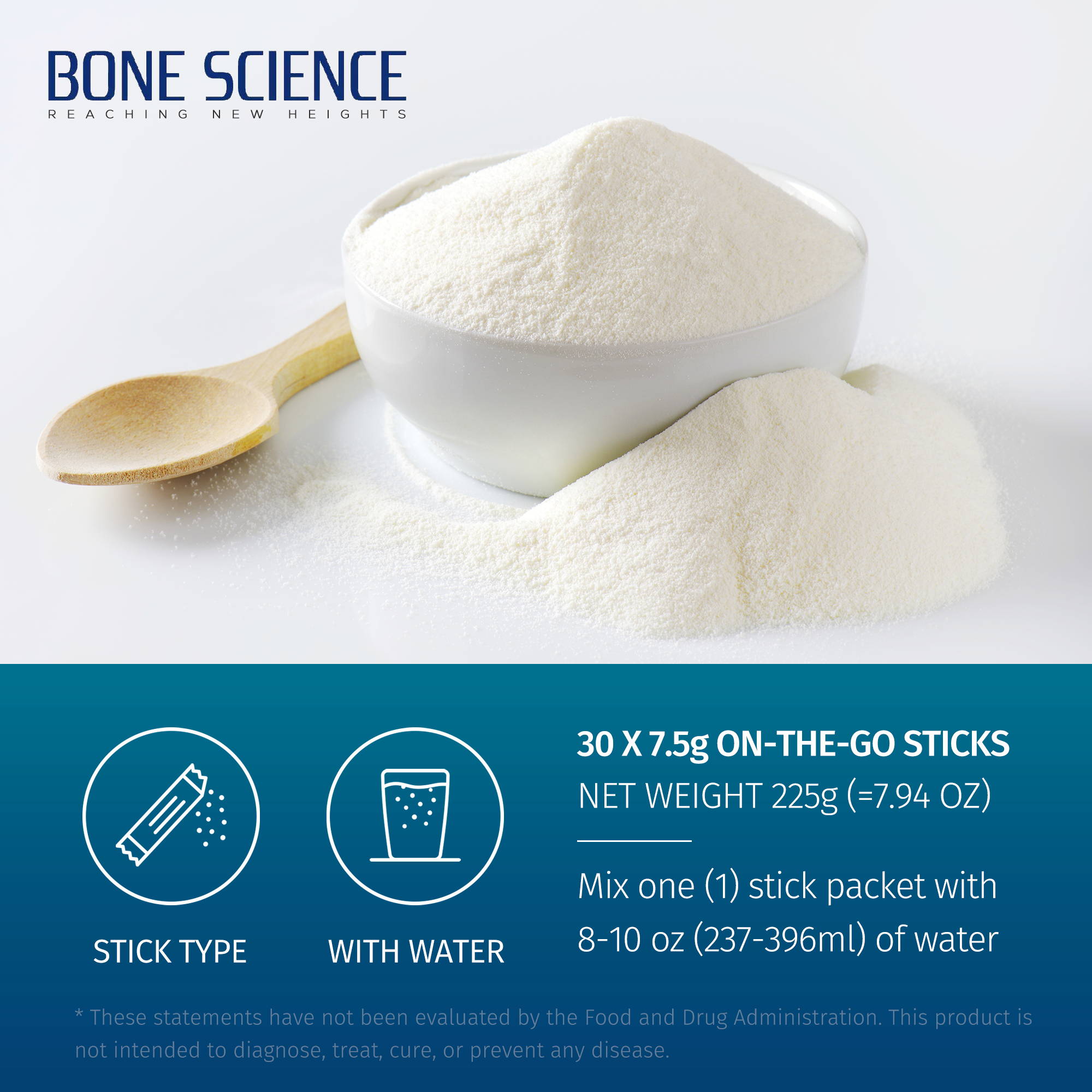 Our research team is committed to gaining new insights into osteology (the study of bones) to promote your bone health and wellbeing.
We use our knowledge to develop scientifically sound products that our customers can trust.
Science-Backed Formulations
Carrying out extensive research and keeping up-to-date with the latest scientific findings is our key to develop superior formulations.
Best Growth Support for Kids & Teenagers
Our products contain essential ingredients for a healthy bone and height development of kids from 10 years and teenagers.
Fighting Aging Effects
We are dedicated to create formulations that delay and restrict the extent of adult's bone density decrease.
Unmatched Product Quality
Only 100% natural ingredients that contain no soy, no gluten, no GMOs, no maltodextrin, and no artificial flavors, colors, or preservatives.
Product Safety
All of our products are manufactured in the US in an FDA and NSF cGMP registered facility.