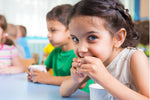 In a world of convenience foods and pre-packaged snacks, it can be difficult to make sure kids make eating choices that support healthy growth and development. But when you know which nutrients your kids need every day and have time for a bit of planning, you can prepare healthy snacks that will keep kids satisfied between meals and contribute to their development. 
We've rounded up the best healthy snack ideas for kids. Most of these can be prepared ahead of time and kept on hand for whenever hunger strikes. And, most importantly, they contain the vitamins and minerals kids need to build strong bones, muscles and minds. 
Best Healthy Snack Ideas for Kids
1. Frozen yogurt pops
Instead of sticking to regular yogurt as a snack, make things a bit more fun with a healthy snack that tastes and feels like dessert. Make homemade frozen yogurt popsicles by filling a muffin tin with layers of yogurt, fruit and whole-grain granola. Insert a popsicle stick into each cup and freeze for at least an hour. Kids can grab a stick and enjoy a warm-weather treat that's full of calcium. 
A ¾-cup serving of plain, non-fat Greek yogurt contains 187 milligrams of calcium. According to the National Institutes of Health, children over 4 years old need 1,300 milligrams of calcium per day to support their growing bones.1
2. Egg muffins
Put your muffin tin to use again to make individual egg muffins filled with diced veggies and cheese. Eggs are a natural source of vitamin D, which kids and adults need for bone health. Vitamin D allows our bones to absorb the calcium we consume. And though the best source of Vitamin D is sunlight, clothing and sunscreen blocks our ability to absorb the vitamin. 
However, one egg contains 11% of the daily recommended intake of vitamin D. It's also high in protein and contains satiating fat, which means this snack can help keep kids full for longer, so they won't be as easily tempted by less nutritious foods.2
3. Whole Grain Granola Bars
Making your own granola bars is easier than you might think. If you start with whole rolled oats, a mixture of dried fruit, nuts, and seeds, you have the foundation for a highly nutritious snack. Bind your bars together with eggs and a bit of non-refined sweetener, like honey or maple syrup. 
You can store granola bars in the freezer for up to three months, so you'll always have a snack on hand when there's a hunger emergency. 1 cup of cooked oats contains 4 grams of dietary fiber, which promotes digestion and a healthy gut microbiome. A serving of oats also contains 77% of the daily recommended intake of iron, which is essential to maintain an adequate bone mineral density. Studies suggest that insufficient iron intake can increase the risk of osteoporosis.3
4. Flavored Popcorn
Rather than buying giant crinkly bags of popcorn, pop your own and put a fun flavor spin on it. When it's not slathered in butter or coated in sugar, popcorn can be a highly nutritious snack. One ounce of popcorn contains 3.6 grams of dietary fiber as well as 8% of the daily recommended intake of magnesium. 
And you don't have to serve it plain to make a healthy snack. Dust your popcorn with cinnamon, curry powder, or nutritional yeast for an easy flavor upgrade. Or turn it into a more substantial snack by tossing in dried fruit and nuts for a homemade high-fiber trail mix. 
Conclusion
While it can be difficult to always feed your kids the healthiest meals and snacks, with a bit of planning, you can help ensure that most of their nutritional needs are met. And to bridge any gaps, add in a daily bone health supplement to make sure they develop a strong and healthy skeletal system for life. 
____________________________________________________________
1 https://ods.od.nih.gov/factsheets/Calcium-HealthProfessional/
2 Neale RE, Khan SR, Lucas RM, Waterhouse M, Whiteman DC, Olsen CM. The effect of sunscreen on vitamin D: a review. Br J Dermatol. 2019 Nov;181(5):907-915. doi: 10.1111/bjd.17980. Epub 2019 Jul 9. PMID: 30945275.
3 ​​Toxqui L, Vaquero MP. Chronic iron deficiency as an emerging risk factor for osteoporosis: a hypothesis. Nutrients. 2015;7(4):2324-2344. Published 2015 Apr 2. doi:10.3390/nu7042324