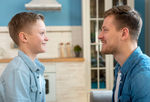 Uncover the incredible impact of effective parent-child communication on nurturing children's growth and cultivating stronger connections. Delve into essential strategies, advantages, and actionable advice for fostering meaningful interactions with your child.
1. Active Listening: A Pathway to Understanding and Connection
Learn the art of active listening and its profound impact on parent-child communication. Explore techniques to provide undivided attention, validate emotions, and create a safe space for your child to express themselves. Discover the benefits of active listening in building trust and fostering a deeper understanding of your child's needs.
2. Effective Communication Techniques: Building Bridges of Support
Uncover effective communication techniques to establish clear expectations, boundaries, and positive reinforcement with your child. Explore the power of using positive language, constructive feedback, and encouragement to nurture their self-esteem and growth. Discover how to engage in meaningful discussions, teach important life skills, and involve your child in decision-making processes.
3. Quality Time: Strengthening Bonds through Meaningful Connections
Explore the significance of quality time in parent-child relationships and its impact on overall growth and well-being. Discover the benefits of engaging in shared activities, creating rituals, and setting aside dedicated time for your child. Learn how to foster emotional connection, nurture their interests, and create lasting memories that contribute to a strong and resilient parent-child bond.
References
Parenting for Brain - "Build a Strong Relationship with Your Child"
Verywell Family - "9 Ways to Improve Communication with Your Child"
Psychology Today - "The Power of Active Listening"