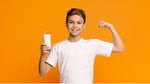 Protein is an essential macronutrient that supports a range of functions in the human body. And like adults, children need a regular supply of protein in their diet to develop strong, vibrant bodies for life.
But how much protein do children need? When it comes to feeding your child a well-rounded diet, more is not always better, even with protein. While every body, especially growing ones, needs a certain amount of protein every day, it's better to stay within a healthy range than to go overboard with this muscle-building nutrient.
Why Do Children Need Protein?
Children need protein for many of the same reasons as adults. The protein your child consumes helps him build muscle and bone at a healthy rate. It also supports hormone production and regulation.
In addition, protein plays an essential role in transporting essential nutrients throughout the body. Without an adequate protein supply in your child's diet, he or she may face developmental setbacks that can last for life.
How Much Protein is Enough for Kids?
While protein is a foundational and necessary macronutrient, right alongside carbohydrates and fat, more is not always better. And in fact, if your child is like the majority of children in Western countries, he or she is probably already consuming more than the recommended amount of protein each day.
The exact recommendation for protein intake among children differs with age and roughly translates to 0.8 grams of protein per kilogram of bodyweight:
4 to 9 years old: 19 grams of protein per day
9 to 13 years old: 34 grams of protein per day
14 to 18 years old: Boys need 52 grams and girls need 46 grams per day
To put that into perspective, one 4-ounce chicken breast contains over 30 grams of protein. One 5.3-ounce yogurt cup contains 14 grams of protein.
Does My Child Need a Protein Supplement?
In most cases, children do not benefit from added protein supplements. In fact, studies show that over-consumption of protein among children can lead to an increased risk of obesity in adulthood.
Even studies of protein supplementation in malnourished children did not show a statistically significant increase in growth patterns compared to unsupplemented children.
While protein supplements often provide more nutrients than protein alone, it's better to supplement with the specific vitamins and minerals your child may be lacking rather than adding a blanket one-size-fits-all protein powder.
However, if you child is a very picky eater or has food allergies or sensitivities and you suspect that he or she is not consuming the necessary amount of protein, it might be a good idea to discuss supplementation with your doctor.
Child-specific protein supplementation can be an easy way to round out your child's diet to support healthy development without a fuss over mealtime. Of course, it's important to select an appropriate protein supplement for children, which is probably not the same shake mom or dad drinks after a workout.
Best Protein Sources for Kids
For most children, choosing protein-rich foods is a better option than a powdered or liquid supplement. Some of the best kid-approved sources of protein include:
Eggs. One large egg contains 6 grams of protein, as well as vitamin D, vitamin A, and healthy monounsaturated fats.
Salmon. A 3-ounce serving of salmon offers 17 grams of protein, along with 3 grams of monounsaturated fats and a significant amount of vitamin B6, all of which support healthy development in children.
Beans. A 1/2 cup serving of cooked beans and lentils contains about 9 grams of protein, along with 8 grams of fiber and calcium.
Lean meat. Chicken, lean cuts of pork, turkey, and lean beef are all good sources of protein that many children enjoy.
Tofu. Just 1/4 cup of extra-firm tofu contains about 5 grams of protein and over 1/4 of your child's daily calcium needs.
References
Pendick, D. (2019, June 25). How much protein do you need every day? Retrieved March 01, 2021, from https://www.health.harvard.edu/
Hörnell A, Lagström H, Lande B, Thorsdottir I. Protein intake from 0 to 18 years of age and its relation to health: a systematic literature review for the 5th Nordic Nutrition Recommendations. Food Nutr Res. 2013;57:10.3402/fnr.v57i0.21083. Published 2013 May 23. doi:10.3402/fnr.v57i0.21083
Lampl, Michelle & Johnston, Francis. (1978). Effects of protein supplementation on growth and skeletal maturation of New-Guinean school-children. Annals of human biology. 5. 219-27. https://doi.org/10.1080/03014467800002841