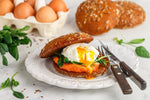 The best way to build and maintain strong bones for life is by consuming the proper nutrients. The foods and supplements you can eat affect your skeletal system in positive and negative ways.
To optimize your bone health today and avoid future bone loss or fractures, the best place to start is with what's on your plate. The good news is that eating for bone health can be delicious, satisfying, and fulfilling. Today we're sharing some of the best tasty bone health recipes to add to your repertoire. 
Most Important Nutrients for Bone Health
When selecting the best meals to support your bone health, there are a few essential nutrients to take into consideration. The most important nutrients for bone health are calcium, vitamin D, and magnesium.
The best food sources of calcium include:
Dairy products like milk, yogurt, and cheese
Leafy green vegetables like spinach, kale, and chard
Fortified non-dairy milk
Sardines and anchovies
Adults should aim to consume at least 1,000 milligrams of calcium per day.
Magnesium is a nutrient found in many plant foods. Some of the best food sources of magnesium include:
Nuts like almonds and cashews
Seeds like sunflower seeds, pumpkin seeds, and chia seeds
Legumes like black beans, and peanuts
Salmon
Whole grains including oats, and breakfast cereals
Vitamin D, on the other hand, is not as readily available from food sources. The human body most easily absorbs vitamin D directly from sun exposure. So depending on where you live and how much time you spend in the sun throughout the year, it might be wise to add a vitamin D supplement to your routine.
Best Breakfast Recipes for Bone Health
Breakfast is the most important meal of the day for more reasons than one. It happens to be the perfect opportunity to incorporate calcium-rich foods into your day. Here are some of the most delicious bone-healthy breakfast recipes:
This recipe is as easy to make as it is to customize. Use your favorite fruits, calcium-filled yogurt, and/or milk for a fruity, colorful, and refreshing drinkable meal. For a bone health bonus, add a handful of frozen greens.
This plant-based savory breakfast recipe gets its high calcium content from extra-firm tofu and soy milk. It's also a great opportunity to add magnesium-rich foods to your plate like black beans or smoked salmon.
This flavor-packed breakfast does double-duty on the bone health front with whole grains and salmon. One serving of salmon offers 13% of your daily recommended intake of magnesium. Opt for a whole-grain English muffin or bread for the optimal nutritional profile.
Best Lunch and Dinner Recipes for Bone Health
These simple and healthy lunch and dinner recipes are packed with good-for-you vitamins and minerals.
This crunchy, fresh salad is packed with both leafy green vegetables and whole grains. One cup of quinoa has 118 milligrams of magnesium and 31 milligrams of calcium. Add that to kale's impressive 101 milligrams of calcium per cup and you have a powerful lunch!
Even self-proclaimed sardine haters will fall in love with this savory pasta. Sardines are packed with calcium and magnesium. They also add a delicious briny pop to a comforting pasta dish. Use wholegrain pasta for the biggest bang for your buck.
This vegetarian skillet dinner is perfect for a busy weeknight. It's also packed with whole grain goodness and healthy legumes. The natural colors from tomatoes, fresh herbs and spices are another indication of a vitamin- and mineral-rich dish.
Snack Recipes for Optimal Bone Health
Pack your snacks and even sweet treats with healthy nutrients to keep your vitamin intake high throughout the day.
Easy to whip up in a food processor, these lightly sweetened bites are packed with good-for-you ingredients. Old-fashioned oats are unprocessed for maximum nutritional value and walnuts are an excellent source of both magnesium and calcium.
This is a great make-ahead snack for optimal bone health. Chia seeds are naturally high in magnesium, with 23% of your daily recommended value per ounce, plus 17% of your daily recommended intake of calcium. Add in a scoop of protein and calcium-packed Greek yogurt, and you have a winning snack for any time of day.
Pair magnesium-rich almonds with calcium-packed Greek yogurt in this bone-healthy treat. It's light, fluffy, and perfect for dipping with your favorite fresh fruits.
Conclusion
A healthy skeletal system starts with the nutrients you consume. And with these tasty bone health recipes for breakfast through dessert, it can be delicious, satisfying, and fun to build strong bones. However, the best way to make up for any dietary gaps when it comes to nutrients for bone health, especially vitamin D, is by adding a dietary supplement to your daily routine.
What is your favorite dish or snack to nourish your bones? Let us know in the comment section below.
References
American Bone Health. Nutrients For Bone Health, American Bone Health (2020). Retrieved from https://americanbonehealth.org/
Office of Dietary Supplements - Calcium. NIH Office of Dietary Supplements (2020). Retrieved from: https://ods.od.nih.gov/
Office of Dietary Supplements - Calcium. NIH Office of Dietary Supplements (2020). Retrieved from: https://ods.od.nih.gov/