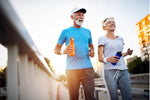 As the human body ages, it changes. A forty-year-old person, for example, has a different body than she had at the age of twenty-five. She literally has an entirely different body, with each cell having been replaced numerous times over the fifteen years. These changes would be alright, except for the fact that as our bodies change over time, they also deteriorate.
Keep Your Bones Strong as You Age
Many patterns of physiological change are associated with aging. One of the most serious of these patterns is the deterioration of our bones. Over time, our bones become smaller and less mineral-dense. As this evolves, it affects several aspects of our health, including mobility, bone strength, and immune function. If left unchecked, some older adults will develop osteoporosis, a health condition where bones weaken and become more vulnerable to fractures and breaks. It is for this reason, that everyone, especially seniors, should strive for better bone health.
Better bone health actually begins in childhood with the establishment of healthy dietary and lifestyle habits, good health care and regular exercise. By maintaining a healthy diet and lifestyle, someone can continue to have strong, healthy bones throughout her life. However, if she is lax in her diet and lifestyle habits, her bones can weaken and deteriorate over time.
Risk Factors for Low Bone Density
Some of the risk factors associated with deteriorating bones are more difficult to avoid, like the prevalence of osteoporosis in a particular family's medical history. In families like these, it is even more important for every family member to monitor all of the factors which can support better bone health.
Other osteoporosis risk factors, which can be avoided or managed include:
certain medicines, like steroids, and estrogen blockers
leading a sedentary lifestyle
history of eating disorders
salt consumptions
excessive caffeine (more than two cups of coffee daily)
Pursuing Better Bone Health
We imaging bones being hard, brittle objects. But actually, bones are a vibrant, living component of our anatomy and provide important physiological functions. They are alive with active cells and flowing body fluids, like blood. Bone cells are in a constant state of renewal and they can grow stronger and healthier with a good diet and a lifestyle that includes physical activity.
Physical activity contributes to bone strength, especially load-bearing activity. When a person carries an object, like a backpack, or carries weighted loads in connection with his work, his bones respond by thickening and strengthening. As people age, they become less active and tend to carry fewer and fewer things around. If you have the opportunity to carry those grocery bags or that golf bag, don't hesitate. You'll strengthen muscle and bone at the same time. Every little bit helps.
One of the reasons to stay active is that our skeletal muscles are essential to supporting our body weight, our bones and protecting our joints. People often think of our bony skeletal system as being responsible for bearing loads and supporting our body weight. However, this is not the case. It is our muscular system that bears loads and provides the strength to move around. The intended function of bones is more to create defined spaces within which our muscles can optimally function.
What happens to many people as they age is that their muscles contract and weaken from non-use. Now, these weakened muscles can no longer support the body's weight and motion, and the bones are left with the task. However, if the bones themselves have shrunk and have lost strength and density, with the added responsibility of bearing weight, they become even more susceptible to breaks and fractures.
Dietary Guidelines for Better Bone Health
If you're a post-menopausal woman or a man over the age of fifty-five, here are your marching orders:
Eat calcium-rich foods, especially dairy, leafy vegetables, bread and whole grains, tree nuts, and soy products like tofu and soy milk
Supplement your diet with vitamins A, D, C, and K
Supplement your diet with magnesium and zinc
Keep your muscles toned and healthy with activity and protein
Commit to a salt-free diet
Stop smoking
Limit alcohol to two or three drinks a week
Cut coffee consumption to two cups per day
Get off the couch and be physically active
Vitamins A, D, C, and K are necessary for calcium absorption. Most people are deficient in vitamin D. Without these vitamins in our diet, we can consume all the dairy we want, and we still might have weakened bones.
Conclusion
Bone deterioration and osteoporosis are fairly common health problems, especially for older people, since bone density tends to decrease with age. The good news is there is something you can do about it by remaining active, making smart dietary choices, and by supplementing your diet with vitamins and minerals that support healthy bones.