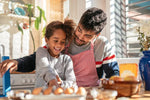 Ensuring your kids eat a healthy diet can be tricky, especially if you have picky eater on your hands. But when it comes to proper growth and building bone health, diet is one of the most important factors.
These are some of the best healthy kid-friendly recipes to support a well-rounded, nutritionally-dense diet for kids of all ages.
Best Healthy Kid-Friendly Recipes for Bone Health
Even the pickiest eaters will enjoy these bone health recipes. From quick breakfast to take on the go to satisfying dinners the whole family can enjoy. These recipes are kid-approved and provide the vitamins they need to develop healthy bodies and bones for life.
Most kids will be thrilled to dig into a tall pink glass of what looks like a strawberry milkshake for breakfast. And this thick, creamy yogurt- and fruit-based drink tastes like one too! Your kids won't even know how healthy and easy this drink is to make. With four simple ingredients and a blender, you can whip up a fun, fruity, and healthy kid-friendly breakfast on even the busiest mornings.
Opt for a plain Greek or regular yogurt to boost the nutritional value of this smoothie. 1/2 cup of yogurt adds 163 milligrams of calcium. Studies show that dietary calcium from dairy products like yogurt and milk can increase overall bone mineral content (BMC) in children. BMC is an important indication of a strong skeletal system.
Your kids will go wild for these homemade chicken tenders. Breaded in crispy, buttery pecans and dunked in homemade buttermilk ranch dressing, this is a meal that goes way beyond fast-food. And the good news for you is that while your kids dunk their chicken tenders happily into the calcium-rich sauce, they're also eating plenty of nutrients. Pecans are a great plant-based source of calcium, which supports bone health.
Plus, the lean chicken breasts in these tenders pack plenty of protein. One comprehensive review study determined that 10-year-old children should consume 0.74 grams of protein per kilogram of body weight a day for proper muscle and bone development.
Don't let the fancy-sounding name throw you off, these salmon patties are easy to make, kids-approved, and packed with nutrients. Croquettes are individual fish cakes that are perfectly crisp on the outside and packed with flavor on the inside.
This recipe in particular is great for kids because of the nutritional benefits of salmon. Salmon is one of the few dietary sources of vitamin D, an essential nutrient for bone health. While our bodies most readily absorb vitamin D from the sun, it can be difficult to absorb a sufficient amount of the vitamin during certain darker times of the year.
That's when eating fish like salmon and tuna are especially important, because Vitamin D works alongside calcium to keep bones strong. According to the Johns Hopkins All Children's Hospital, one- to 18-year-olds need 600 IU of Vitamin D a day. 3 ounces of salmon contains up to 650 IU of the vitamin.
These cheesy quesadillas pack a punch of nutritional benefits. Green vegetables, black beans, and melty cheese are all excellent sources of calcium that happen to taste great. You can customize these quesadillas with your kid's favorite veggies. For the most calcium, opt for dark green leafy vegetables like kale or chopped broccoli.
Plus, 1/2 cup of drained black beans contains 23 milligrams of calcium and 60 milligrams of magnesium, two essential vitamins for bone health. And if your kids aren't the biggest fans of legumes, they might not even notice the beans hiding behind the gooey calcium-rich cheddar in their quesadillas.
5. Hard-Boiled Eggs
This simple, one-ingredient snack offers a surprising number of health benefits for kids. Prep a big batch of hard-boiled eggs for the week, and you'll always have a high-protein, tasty snack to satisfy afterschool hunger. Plus, eggs are a great vehicle for kid's favorite flavors. You can dip them in marinara sauce, sprinkle them with calcium-rich cheese, or add a dusting of their favorite seasoning blend.
Eggs happen to be rich in vitamin B12 and selenium. They're also one of the best sources of choline. Studies show that this nutrient plays an important role in healthy brain development for children.
Conclusion
From breakfast to dinner, it's easier than you might think to feed your kids healthy meals that they'll love. These calcium-, vitamin D-, and magnesium-packed recipes will help your children reach their daily recommended intakes of essential vitamins and minerals.
But where diet falls short, supplements are an easy way to fill the gap and ensure your kids get every milligram of nutrients they need to build strong bones today and for the future.
Did you cook something your kids really loved recently? Let us know in the comments! And find more tasty bone health recipes we tried and loved,

here.
References
Garlick PJ. Protein requirements of infants and children. (2006). Nestle Nutr Workshop Ser Pediatr Program. 58:39-47; discussion 47- 50. doi: 10.1159/000095009.
Huncharek M, Muscat J, Kupelnick B. (2008). Impact of dairy products and dietary calcium on bone-mineral content in children: results of a meta-analysis. Bone. 2008 Aug;43(2):312-21. doi: 10.1016/j.bone.2008.02.022. Epub 2008 Mar 15. PMID: 18539555.

Vitamin D and Your Child. (2020). Retrieved December 10, 2020, from https://www.hopkinsallchildrens.org/Patients-Families/Health-Library/HealthDocNew/Vitamin-D-and-Your-Child

Zeisel SH, da Costa KA. (2009). Choline: an essential nutrient for public health. Nutr Rev. 2009 Nov;67(11):615-23. doi: 10.1111/j.1753-4887.2009.00246.x. PMID: 19906248; PMCID: PMC2782876.