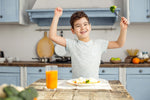 Do you struggle to get your kids to make healthy food choices? Then these tips and tricks can help you encourage healthy eating habits for kids without an argument. It's easier than you think to make nutrient-dense foods tasty and kid-approved.
Tips to Encourage Healthy Eating Habits
Whether you're feeding a 3-year-old or a 13-year-old, it can be difficult to ensure your growing children get all of the vitamins and minerals they need to develop strong, healthy bodies for life. With these simple strategies, parents can set a positive example and encourage healthy eating habits without fuss.
1. Eat Family Dinners
The simple act of putting down the screens and gathering for a meal as a family can go a long way towards developing healthy eating habits in kids. One study with 9- to 14-year olds shows that children who ate family dinners consumed diets with more fruits and vegetables and less saturated and trans fats later in life.
Family dinner time has other benefits as well. According to the Family Dinner Project, family meals are associated with a reduced risk of depression, anxiety, substance abuse, and eating disorders.
2. Make Healthy Foods Available
With young kids, parents still have a lot of control over the foods their children have access to. If your pantry is full of salty chips and the freezer is full of ice cream, it shouldn't come as a surprise that your kids make the same choices as you do.
Remember that the food habits children build early in life are likely to stay. So if you want to set your kids on the right track nutritionally, start leading by example. Do a kitchen audit and donate, items that don't support proper nutrition. For example, replace white bread and sugary cereals with whole-grain bread and fiber-rich breakfast foods. Swap out packaged snacks with whole fruits and low-fat yogurt.
When your house is designed to support healthy eating habits, you can make treats feel like special occasions. You don't need to remove ice cream from your kids' diets altogether, but instead of scooping it up every night, go out as a family for a sweet treat on a hot afternoon.
3. Watch Portion Sizes
Your kids are learning from you when it comes to portion sizes too. Studies show that there is a direct link between the amount of food parents consume and the amount they serve their children. But studies also show that when kids consume larger portion sizes at meals, they don't reduce their caloric intake during other times of the day. This can lead to regular overeating and weight gain.
It's important for parents to familiarize themselves with proper nutrition sizes for kids. There are many resources to learn the appropriate portions of major food groups for kids of all ages, such as this one from Healthychildren.org.
4. Treat Food with Respect
Avoid forcing kids to eat or finish their plates. Letting food become a source of disagreement and anger can lead kids to associate negativity with the nourishment they need. Instead encourage your kids to eat when they're hungry, and on a regular schedule that matches yours. Again, starting with smaller portion sizes helps avoid food waste and overeating.
In addition, don't reward or punish food behaviors. Likewise, food should not be used as a reward or a form of affection. The way that you treat food around growing children likely is going to affect their lifelong relationship with eating and nutrition.
Conclusion
By setting a positive example in your own dietary habits, food choices, and behavior around meals, parents can do a lot to encourage healthy eating habits in their kids at all stages of development. And if you're concerned that your children aren't satisfying their nutritional needs, a dietary supplement is a simple, hassle-free way to round out your child's diet and support a life-long healthy relationship.
Want more healthy eating tips? Try our 5 Healthy Kid-Friendly Recipes.
References
Gilman, M. W. (2000). Arch Family Medicine, 9(3), 235-240. Retrieved December 11, 2020, from https://triggered.edina.clockss.org/
Anderson, J. (2020, April 1). Harvard EdCast: The Benefit of Family Mealtime. Retrieved December 11, 2020, from https://www.gse.harvard.edu/

Susan L Johnson, Sheryl O Hughes, Xiangqin Cui, Xuelin Li, David B Allison, Yan Liu, L Suzanne Goodell, Theresa Nicklas, Thomas G Power, Kirstin Vollrath, Portion sizes for children are predicted by parental characteristics and the amounts parents serve themselves, The American Journal of Clinical Nutrition, Volume 99, Issue 4, April 2014, Pages 763–770, https://doi.org/10.3945/ajcn.113.078311